The cameras from Canon's mirrorless system are shaping up to be the newest go-to for video.
Mirrorless cameras allow for better autofocus tracking and a much better shooting experience than DSLRs did.
They're fast and now capable of capturing 8K video. But the footage is only as good as the lens that focused it, so which lenses are best?
Video is challenging for any lens. Good focus tracking requires the best technologies, and while older lenses might do the job, they often do it with extra noise.
Camera manufacturers didn't start working on silent drive motors for their focus and IS until very recently when it became apparent that video was the way of the future.
You can mount nearly any lens you want to your EOS-R body with the right adapter tube.
But I've given preference below to native lenses designed for these camera bodies.
They take full advantage of all of the technologies that the R5 or R6 offer, including the in-body stabilization and the control ring for more options while filming.
Canon already makes so many stellar lenses for their EOS-R system that it's hard to pick my favorite for video. 
My top choice is the amazing 28-70 mm f/2L. Yes, you read that right. 
A zoom lens with a maximum aperture of f/2.0. It's rare to find a zoom under f/2.8, so this is one of the fastest lenses you can get for a walk-around zoom.
It has three negatives going for it, though.
First, this lens is massive.
It weighs over three pounds, and the filter ring is 92 mm. If you do a lot of traveling or off-tripod shooting, this lens is a heavy burden to carry.
Secondly, it lacks IS. Since the R5 and R6 have built-in sensor stabilization (IBIS), I don't think that's anything to worry about. The last negative is that this lens skips the very wide-angle range, starting at 28 mm.
These issues are fixed with the runner-up choice, which is the Canon RF 24-70 mm f/2.8L IS USM.
This lens isn't as fast, but it's also not as large. It goes wider, and it has optical stabilization.
Both lenses are outstanding options, and your creative choices will decide which one is right for you. 
Do you want something with built-in stabilization? Do you need that extra bit of wide-angle field of view? Would having the creative freedom available at f/2 be helpful?
Don't worry; I can't decide either. In the end, your budget might be the most significant factor in your decision. The 24-70 mm f/2.8L is about $700 cheaper.
I like using prime lenses for video. I find that the lack of a zoom frees me up and forces me to be more creative. 
I rarely zoom during shooting anyway, opting to put the camera on a stabilizer and move around. 
Of course, this is a style choice and entirely up to the type of project and look you're after.
My favorite focal length prime lens is 35 mm. Unfortunately, Canon has not yet released a 35 mm L-series prime. Instead, my top choice is their EF 35 mm f/1.4L II USM, which is a beautiful lens even if you do need to use the EF-EOS R adapter.
This would be an excellent lens to put on the control ring adapter so that you can have manual iris control. It's an older lens, but the ultrasonic autofocus motor poses no problems for video.
The EF 35 mm f/1.4L is slightly bulky, taking 72 mm filters and weighing a little more than two and a half pounds. But the optics and clarity are second to none. It does lack IS, however.
If you need IS for your wide-angle prime, consider the Canon RF 35 mm f/1.8 Macro IS STM.
This lens was built for the R-mount, and it's a very nicely put together lens. It's not an L-series, but the optics are sharp, and the footage doesn't lie. 
It's also worth noting that its autofocus may sometimes track even faster than the L-series 35 mm f/1.4L II since the newer lenses have the upgraded 12-pin communication board.
It's also worth noting that while Canon has yet to release a wide-angle prime for the RF-mount, they do offer the RF 15-35 mm f/2.8L IS zoom. This lens has it all, and while it's not as fast as this 35 mm, it could conceivably replace a lot of wide-angle primes in your kit
If 35 mm is a little too wide, you need a nifty-fifty.
Fifty-millimeter lenses are commonly called "normal" since they provide the most true-to-life images on full-frame sensors.
Canon's RF 50 mm f/1.2L is nifty indeed. It's a fast lens that works perfectly with video and mates ideally on any EOS-R body.
There's not much a 50 mm can't do, and this is one of the best.
This is the perfect starter lens if you are looking to step into the L-type lenses.
It's fast and sturdy, with good weather-proofing.
Like all RF lenses, it features an outer control ring to allow for iris adjustments while shooting.
The RF 50 mm f/1.2L is one of the fastest in the RF line-up.
F/1.2 is hard to beat, and while you might find some manual lenses that go as low as f/0.95, the difference at this range is hard to measure.
The 50 mm has a minimum focus distance of just 1.3 feet, making it ideal for getting up close, and it accepts 77 mm screw-on filters. At just over two pounds, it's one of the larger primes you'll carry.
For portraits, close-ups, or more detail-oriented footage, you'll need a prime with a little more reach.
The Canon RF 85 mm f/1.2L is my choice. Like the other L-series prime lenses, this one also lacks IS.
That's a shame, too, since this focal length begins to get to the range where it would come in handy.
However, it is extremely fast and, along with the 50 mm, makes a great set for nearly every video need.
Like its sister, the RF 50 mm f/1.2L, the 85 mm is a big lens. It weighs 2.6 pounds and takes 82 mm filters.
If the idea of a fast 85 mm prime appeals to you, but you aren't sure how much you'll use it, try out the Rokinon 85 mm f/1.4 AF.
Unlike most of Rokinon's line-up, this budget lens has high-speed autofocus. It's also weather-sealed with a metal body. 
The optics are sharp, so it's a great way to try out a nice prime without investing in an L-series lens.
I love long shots, and the new RF 15-35 mm f/2.8L is a dream come true for videographers like me. This zoom lens makes up for some of the short-comings in 
Canon's prime line-up. For one, it has image stabilization.
 Another big plus is that it is a native RF lens that goes down to 15 mm. That's quite wide for a full-frame sensor camera, so even when working with video crop factors on some R-family cameras, this wide will allow you to capture what you need to.
I like this lens because it replaces so many others in my kit. I like to use it for scenics while filming, something I'd otherwise be doing with a wide-angle prime lens. 
This lens provides more creative options, though, and gives me native-RF functionality and image stabilization. 
If you don't need the absolute widest apertures possible, Canon makes it possible to make a killer video kit with zoom lenses. 
Combine this with the 24-70 mm f/2.8L or the 28-70 f/2L, and you've got everything you could ever ask for.
If you need to do videos from a distance or go into the field to do wildlife shots, you need a good zoom. While the RF 70-200 mm f/2.8L won't get you as close as some of the super-telephoto primes, it has a great range of focal lengths convenient to have for any filming. 
On the low range, it's perfect for interviews or close-up shots. It's also versatile enough to do super close-ups or over-the-shoulder shots.
Canon completely redesigned this lens when they converted it to RF.
It still has its multi-function IS system, which optimizes the IS for steady shots or tracking shots.
It also retains the focus zone selector, making the focusing work a bit faster if you are more than 2.5 meters from your subject.
It comes with a tripod mount, which is handy with a lens this size as it chances the camera body's balance considerably.
This lens is more compact than its EF cousins, too, thanks to a retracting and extending design.
You might be surprised to see this lens mingling with the others on this list.
But I love this lens for a few reasons. For one, it's dirt cheap.
Compared to other video lenses, you can probably afford to buy one of these to have when all else fails.
At this price point, anyone can afford to carry a 14 mm lens in their camera bag.
The other thing I love about Rokinon lenses is their surprisingly good image quality.
For the price point, they provide a very useable manual lens that produces excellent footage.
Is it as clear and sharp as the RF 15-35 mm, for example? Certainly not.
The only thing I dislike about this lens is the inability to use screw-on filters with it. It has an integrated hood and a rear gel filter holder for creative shots.
This is a new version of Rokinon's original lens, which now has an all-metal body and better weather-sealing.
If you've got to have autofocus, Samyang makes a nearly identical 14 mm f/2.8 autofocus lens for the Canon RF-mount. 
This lens costs a few hundred dollars more than the Rokinon. I'm not sure it's worth it since the autofocus system is rudimentary at best. 
But it's nice to have for walk-around shooting, and the optics of the two lenses are nearly identical.
What Makes a Great Video Lens?
If your primary goal with your EOS-R camera is to shoot video, there are a few things you should be on the lookout for when you pick your lenses.
Both still and video photographers are interested in the best optics they can get, but video can be more demanding of a few little things.
One of the most significant differences between standard lenses and those optimized for video is the presence of noise.
When shooting still images, clicking aperture rings or grinding autofocuses are nothing more than nuisances. But if noises show up in the video audio, it can make footage unusable.
Manufacturers have put a lot of time, effort, and money into silencing their autofocus motors, image stabilization systems, and control functions. Lenses branded as "cine" or for cinema use will have de-clicked rings for smooth operations.
Another thing to think about is how smoothly you can operate the lens.
Most cinematographers prefer manual focusing on delicate shots to avoid focus hunting or searching.
This means that the focus dial needs to move slowly. Geared focus rings are the norm in cine lenses, but they're an afterthought on most consumer-level camera gear.
You don't need to invest in the top-end cine lenses to get usable video, though.
 As Canon redesigns their lenses for the RF lens mount, they make significant changes that mean the lenses work better for video. 
The introduction of a new mirrorless system in the EOS-R cameras means that Canon has reset the clock and focused more on video. 
That's excellent news for photographers who struggled to get good footage with older DSLRs.
Image stabilization systems is another function that needs to work well on video systems.
The R-series cameras now feature in-body image stabilization (IBIS).
That means that you will get some stabilization no matter what lens you use. But if you use a Canon optically image-stabilized, or IS, lens, you will get much more because the camera and lens will work together.
Canon says this can offer an eight-stop improvement when in low-light conditions.
This creates a conundrum for the video shooter.
Should you have a faster lens, like the Canon EF 35 mm f/1.4L, which does not have IS but is a stellar and fast lens, or would you pick the RF 35 mm f/1.8, which has IS but no red-band optics?
The EF f/1.4L will beat the sharpness and build quality of the RF f/1.8 any day, but for day-to-day useability, having stabilization is appealing.
I can't make that call for you because everyone's shooting varies.
I would choose the faster lens, primarily since the body will provide some stabilization on its own.
Focal Lengths and Apertures
Every video shoot requires a range of focal lengths to choose from.
The R-series camera bodies have full-frame sensors, so lenses have no crop factor.
However, each body has its own crop factor for various video types depending on how much of the image sensor is used. For example, the R6 records 4K video at a 1.6x crop factor.
If you want wide-angle 4K footage from an R6, you'd better be using a super wide-angle lens.
Look up the crop factor for your sensor at different resolutions and know your camera body's nuances before you start.
While still photographers regularly use super-wide or extreme telephoto lenses, video makers stay in a smaller range of focal lengths.
This range is between 35 and 70 mm for most, though artistic directors may demand specialized shots.
Wide shots look odd on video, and zoomed in telephoto footage has limited usefulness.
My advice is to spend your money on the lenses you will use most and pick up less expensive options for those fun extra shots.
For video, wide apertures provide creative choices and freedom.
A lens with an aperture that goes down to f/1.2 or f/1.4 will allow you to shoot in various lighting conditions, and you can control the depth of field for any shot you want.
If you have a slower lens, you have fewer options.
Are Canon L-Series Lenses Worth It for videographers?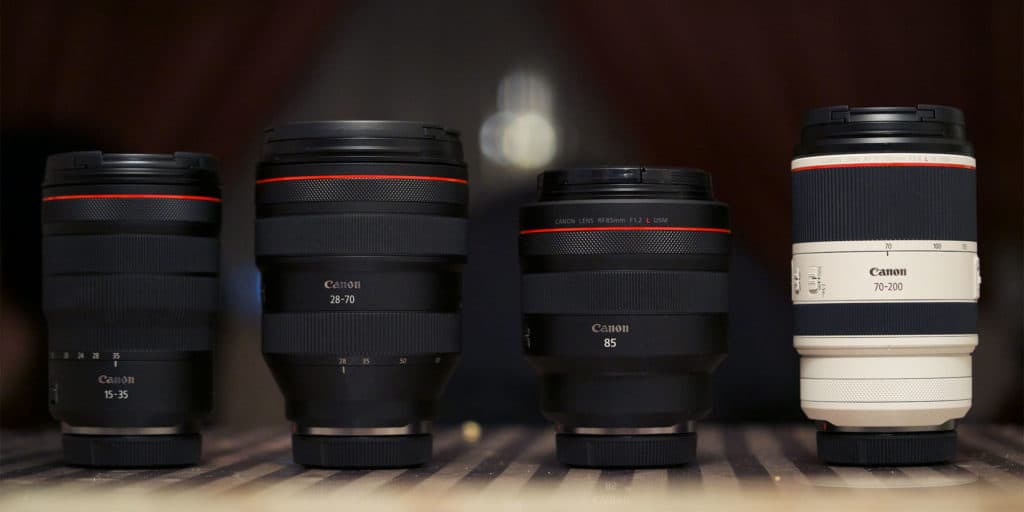 Canon has labeled their premium lenses with an L for decades. These lenses feature the distinctive red band on the end and the best optics and design features that Canon can pack into them.
L lenses are available in both prime and zoom models, and their apertures are usually the widest that Canon makes.
L-series lenses are expensive, with prices in-line with other top-end optics manufacturers.
But beyond their fancy designs and excellent specs, there are some other things you should probably know about L-series glass.
For one thing, Canon uses the best materials on their L-series line-up.
They have all-metal bodies and frames. They also have excellent weather-sealing.
These are lenses that are designed with working professionals in mind.
They will take a beating and keep working reliably for years.
L-series lenses are always in demand. Compared to kit lenses, Canon L-series models hold their value better.
Prime lenses are my favorite for shooting video. They always provide better optics than zooms. I have yet to find a mirrorless lens that could make a zoom-in smooth enough. 
Nine times out of ten, better results are achieved by moving the camera on a proper mount.
There's still a place in your camera bag for zooms, though. They're great for having while traveling or when you need to switch between zoom levels for different shots quickly. 
Unless you do many sports or wildlife videos, you probably don't want to carry around many different focal lengths of telephoto primes. So instead, you might get one nicer telephoto zoom that fills that need.
Native RF Mount Lenses vs. Others
There are many advantages to using Canon RF lenses. These are lenses specifically designed for the camera that take advantage of all of the camera's capabilities. 
Remember, the new lens mount includes more connector pins for faster and more extensive data transfer. RF lenses also include a multi-function command ring. All of these are pluses for video.
The only detractor for picking RF lenses is the lack of selection, especially for video purposes. 
Canon is working on adapting their legacy EF-mount L-series lenses for RF, and as they do, they keep making them better. 
They are using quiet drives and placing more emphasis on video-friendly features. But there are still gaps in the product line.
One of the most significant advantages of mirrorless cameras is their ability to accept many types of lenses.
Since there is very little space between the lens mount and the image sensor, it's a simple matter of creating a mount that gets the lens optics aligned correctly.
For fully-manual lenses, adapter tubes for any lens mount are available online.
If you've got manual focus cine lenses that you want to use, this is a great way to do it. Just make sure you get the right adapter tube.
It's also a good way to play with artistic effects and high-end glass, like Leica lenses.
Some videographers also enjoy picking up older lenses and having their aperture rings de-clicked for use with video.
There are more expensive adapter tubes that will provide autofocusing and exposure controls.
If you're looking to use your old collection of Canon EF lenses, Canon is now making a selection of four different EF to RF adapters.
The first adapter provides full control for all of the automatic features on your EF lenses.
The second adapter provides the same functionality but adds a control ring.
This ring works just like the ring that is present on the new RF-series lenses.
This ring provides an extra way to control the camera, but be aware that it does click and that clicking will come through on video.
It is possible to send the adapter to Canon to have it de-clicked. This could come in handy if you want to use this ring for controlling t-stop values or other functions on the fly.
The other two adapter tubes that Canon offers provide a rear filter attachment.
That's especially handy if you have wide-angle lenses that can't accept filters or if you need to avoid the vignetting that occurs at the edges of wide-angle photos taken with some filters. One adapter has a circular polarizer, and the other a variable neutral density filter.
Manual Focus and Its Importance
In film making, the frame's focal point is such a critical storytelling tool that most videographers don't want to use autofocus.
They don't trust the system to pick the right point, and autofocus hunting could ruin the footage.
New mirrorless systems like the R5 and R6 cameras have excellent autofocus systems. 
They have several drive modes and can accurately track a moving target across the frame. These are great gadgets to have, but sometimes it's faster and easier to use a manual focus lens.
The EOS-R bodies also have focus peaking. The rear LCD can zoom in on the frame significantly to show details in the frame. This is an invaluable tool since it allows you to narrow down your focus accuracy.
As mentioned above, not all lenses are great for manual focus. Some may need to have their dials calibrated—it's a common problem to have the markings lined up incorrectly. Others may not move smoothly or accurately enough.
Picking the right lenses for video requires looking at precisely what your project requires and at your shooting style. Some videographers love their zoom lenses, while others prefer the simplicity and optics offered by good-quality primes.
We all wind up collecting, trading, and expanding our lens collection, so never hesitate to buy starter lenses or rent lenses until you narrowed down exactly what it is you're looking for. What's your favorite lens for video?