Sony's a7III has become one of the most highly sought-after cameras of recent years. In part this is because it offers a full frame sensor and impressive pro-photography specs at a highly accessible price point.
Without a doubt, though, a big part of the Alpha 7III's success is also due to the fact that it excels at shooting both stills and video.
But although the a7III does indeed offer a fantastic solution for shooting full frame movies, in order to get the most out of the a7III as a videographer you really need to have appropriate glass on the front of the camera.
Indeed, the requirements of filmmakers are often a little more demanding than those of photographers. And not all Sony lenses are ideal for shooting video.
Which are the best video lenses for the Sony a7III? In this article I share my personal tips and recommendations for choosing the right optics for videography with the Alpha 7III.
The Planar T* FE 50mm f/1.4 is without a doubt the best of Sony's range of standard lenses for the a7III. With that said though, it's also the biggest, heaviest, and most expensive.
So what do you get for your money?
Well, for a start there's the solid metal construction and weather sealing. But perhaps more than anything, the real draw here is simply image quality.
Indeed footage captured with the lens displays great micro-contrast, making for video clips that are extremely detailed and well-resolved even when shot wide open.
And while the lens is sharper in the center at f/1.4 than it is at the corners, the drop in sharpness towards the edges here is minimal. And even this clears up when you stop down to f/2.
AF is extremely fast and accurate, with eye-AF providing very consistent results.
There is, however, some very slight noise from the motors.
This makes the lens less suitable for situations in which you might want to use audio recorded from the camera itself.
Bucking the modern trend for all-electronic exposure control, the lens features a manual aperture ring that is adjustable in clicked increments of one third of a stop. Alternatively the ring can be set to continuous adjustment, permitting smooth aperture racking when filming.
Finally, while "manual" focus is actually of the electronic variety, the Planar 50mm offers one of the most satisfying focus-by-wire experiences around, with the focus ring well dampened and responsive to the slightest touch.
As an alternative solution in this focal length, you might also want to take a look at the Zeiss Sonnar T* FE 55mm f/1.8 ZA.
Although it lacks weather sealing, the Sonnar is both considerably smaller and cheaper than the 50mm Planar, and yet is capable of delivering fantastically sharp footage.
One lens to do it all? Sony's 28-135mm f/4 G OSS might be just what you need!
First, though, it's important to understand that while this lens will work perfectly with the a7III, that's not the purpose it was originally designed for.
In fact the 28-135mm f/4 G OSS is the kit lens that comes with the Sony FS7; a dedicated 4K cinecamera that is popular with pro-videographers (thankfully, though, the lens is also available to purchase separately).
The FS7 is quite a beast of a machine. And the 28-135mm was made to balance it.
So unsurprisingly the lens is big and heavy just like the FS7.
This means that if you decide to use the 28-135mm on the relatively small Alpha 7III instead, expect the whole set up to be fairly front-heavy. It actually works very well though; once you find the right technique.
If you can live with that, the 28-135mm f/4 G OSS offers videographers a lot to work with.
Indeed, if you regularly use your a7III to shoot events, or music videos, or want to work on short films and need a single lens to cover all your shots, there's currently no other piece of glass available like it.
For a start, this is a "power zoom." Which means that the zoom mechanism is motorized and will move smoothly from telephoto to wide angle focal lengths (and back again) at the flick of a switch.
This permits you to film while you zoom, yet without any noticeable "focus breathing."
This function works extremely well – indeed, likely much better than your wrist could ever manage – and is essentially silent. Yet the motion isn't especially fast, so don't expect to be firing off any rapid-action special effect zooms, like a Woodstock cameraman freaking out on LSD.
How useful you'll personally find the power zoom function will depend on your particular shooting style.
If you ever need to zoom while filming, the 28-135mm's motors will likely do a much smoother job of it than you could achieve by manually turning the zoom ring.
The question is though, just how often do you zoom while filming?
However, beyond the automized zoom mechanism, you also have the possibility to zoom manually via a dedicated ring (though note that there's some latency here).
Plus there's manual control over iris and focus too. Alternatively, slide the focus ring away from the camera to switch over to autofocus mode; which is snappy and accurate in most lighting conditions, but occasionally struggles in low light.
Another major selling point with this lens is its optical image stabilization, which works brilliantly. However, as with all lens stabilization, the results when panning are often much better when you turn stabilization off.
For regular shooting, though, OSS makes a world of difference to the final results; footage that might otherwise have been unusably shaky will often turn out smooth and professional-looking when shot with OSS engaged.
Finally, image quality is superb, with the lens producing sharply detailed footage in even quite variable conditions.
Color rendition, too, is attractive, and bokeh very smooth.
You want sharp footage? Like really sharp footage? Absurd amounts of detail, but with beautiful blurry backgrounds?
It'll cost you.
Well, yes, this isn't a cheap lens (indeed, which Sony lens is cheap?). But when you consider that it's also one of the sharpest lenses available today – sharper even than the Zeiss Batis 135mm f/2.8, and faster to boot – then the price of the Sony 135mm f/1.8 is actually a bit of a steal.
Sure, there's some slight drop-off in sharpness towards the edges of the frame at the widest aperture.
But it's all relative; this thing performs better in the corners wide open than most lenses can manage in the center even when stopped down! Yes, it's that sharp!
Sure, sharpness isn't everything in a lens (just nearly everything). But optically this thing is almost flawless in all other areas too.
There's very little in the way of color fringing, and no "onion ring" artifacts to be seen.
Indeed, thanks to the 135mm's eleven aperture blades, bokeh is beautifully soft and smooth, with not a distracting artifact in sight.
This makes the lens ideal for shooting talking heads. Or indeed for any situation where you need to isolate your subject against a softly blurred background while retaining maximum resolution in the foreground.
If the longer focal length works for you, and you've got the money, then you're probably already sold on this lens on the strength of its optics alone.
But should any doubt remain, rest assured that the FE 135mm f/1.8 delivers brilliantly in all other departments, too.
Indeed, autofocus is extremely fast and precise – even when used on a moving subject.
And here eye-tracking really makes a difference, helping to nail shot after shot even under tricky lighting conditions. There are also customizable AF buttons and a focus-limiter switch to help avoid any issues with focus-seeking.
While featuring the usual Sony "fly-by-wire" focus mechanism, "manual" focusing is nonetheless surprisingly smooth and reactive. And, importantly for videographers, the dedicated aperture ring can be switched over from clickable to step-less control; resulting in smooth and seamless adjustment of aperture while shooting.
Finally, the lens is solidly built and fully weather sealed. In short, there's really nothing to complain about here…but the price.
These G-Master lenses are generally superb, so it comes as no surprise to discover that the FE 24-70mm f/2.8 GM is one of the best lenses for video on the a7III.
Especially if you are looking for an all-in-one solution with a wide zoom range and a fast aperture for general use.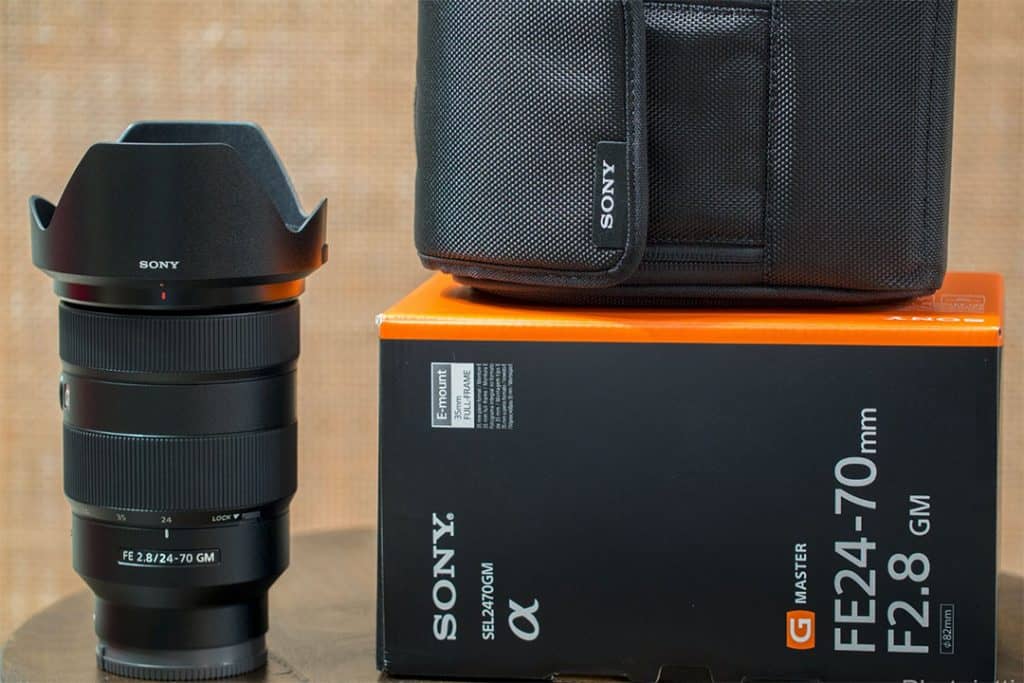 Color rendition is beautiful, with skin tones in particular being very attractive.
The lens displays great contrast, even in tricky light. And bokeh is excellent – especially considering that this is a zoom lens
You can expect to see great resolution in the center at f/2.8, with sharpness getting even better still once you stop down to f/4. 
Yes, there is some evident drop off in sharpness at the corners when wide open.
But this soon clears up at smaller apertures, and shutting down to f/5.6 will give you the optimum degree of sharpness both at center and edges.
Nonetheless, it must be stressed that the lens is very usable even at much wider apertures than this.
The only notable optical defects are some slight color fringing and a touch of vignetting at the widest apertures.
But to be honest both are well well controlled and don't present a major flaw.
Autofocus works brilliantly. And it also happens to be near-silent; making this lens particularly well-suited to videography.
Even more so when you consider that zooms of this type typically suffer from a degree of AF motor noise.
Yes, it's a big and heavy lens. Not to mention expensive. But it's also very well built, handles beautifully, and produces excellent quality images.
So if you're in the market for a fast multipurpose lens of this kind, and can afford the asking price, the FE 24-70mm f/2.8 GM is unlikely to disappoint.
The Sony Distagon T* FE 35mm f/1.4 ZA is not a small lens by any means. But don't let that put you off, as it's supremely good at what it does.
The lens is beautifully sharp in the center, even at f/1.4. Yet it must be said that there is a little bit of softness detectable at the edges at this aperture.
No more than most comparable 35mm lenses though. And in any case, things sharpen up at the corners once the diaphragm is stopped down even to just f/2.
And it's the same with both the light chromatic aberration and the rather heavy vignetting the lens produces when wide open; i.e. close down the aperture even just a stop or two and these problems quickly vanish.
Autofocus is extremely fast and accurate, and manual focus (by-wire) is nicely responsive.
There's also a manual aperture ring, that will allow you to change the iris opening either in clicked increments or as a smooth continuous movement for when aperture racking while filming.
A note of warning though; a few users have reported occasional variations in quality control on these lenses.
Mostly they deliver exactly as they are supposed to, but if your copy isn't as sharp as you expected, be sure to exchange it for a fully functioning model.
As an alternative, consider the Sonnar T* FE 35mm f/2.8 ZA, which measures about a third of the size and costs half the price – despite being a Zeiss lens. Or, if that's not to your liking, check out our next lens, the 35mm f/1.8.
The Sony FE 35mm f/1.8 is a fast, sharp, and compact prime lens offering a highly usable medium-wide angle of view.
Well-built, and fully dust and moisture resistant, it's a durable and hard-working tool for photographers and cinematographers alike.
A quiet AF motor makes the 35mm fully practical for video, and – as is typical of lenses of this type – it comes with a small footprint and weighs very little indeed.
The 35mm f/1.8 boasts very fast focusing speeds and displays excellent accuracy. While the lens features a broad metal ring for manual focus control, keep in mind that all Sony FE lenses are focus-by-wire, rather than offering true manual focus.
Another slight annoyance is that there's some noticeable chromatic aberration and clear vignetting at the widest aperture settings.
Although this is not uncommon with a lens of this kind.
What makes this lens so valuable for videographers though is simply how sharp it is; even at f/1.8, images are crisp and detailed across the frame.
Meaning that you can easily achieve beautiful shallow depth-of-field shots, without losing foreground resolution.
Meanwhile, rest assured that the nine circular diaphragm blades make for some very tasty bokeh.
Although some "cats eye" formations are evident in background areas at smaller f-stops.
Overall this is just a very good, fast-aperture prime lens for day-to-day shooting.
There are no clever tricks or gimmicks, but nor is there anything that is likely to cause much disappointment. Leaving you free to get on with the job of creating movie magic.
For videographers in need of a relatively short telephoto lens for shooting talking heads, detail shots, and assorted pickups, the Sony FE 85mm f/1.4 G-Master presents a very attractive – if somewhat pricey – solution.
Featuring solid G-Master build, in robust metal and plastic, and coming with full weather sealing, the 85mm GM is a serious bit of kit for serious Sony a7III filmmakers.
The lens produces extremely detailed, high resolution images with great contrast.
And out-of-focus rendering is always very pretty, thanks to some impressive internal optics and eleven rounded aperture blades.
As far as optical flaws go, there's some slight color aberration and vignetting.
But this is nothing out of the ordinary and certainly not worth worrying about.
The 85mm GM comes with a dedicated manual aperture ring, permitting iris adjustments in one-third of a stop increments. As with several of Sony's other lenses, a button on the barrel allows you to deactivate the clicks for smooth and continuous iris control; essential for aperture racking.
Manual focus with this lens is of course "by wire," and so there are no focus stops.
However, as with many of these GM lenses, motorized manual focus is nicely dampened and smooth.
With that said, the long distances you typically need to turn the focus ring to set focus mean that radical focus racking effects will be very difficult to produce manually with this lens.
AF tracking, on the other hand, works beautifully most of the time – only occasionally seeking focus either in front or behind the subject. However, while AF is generally fairly smooth, at times focus pulls can display signs of "stepping".
Perhaps even more worrying from a videographers perspective is that there's also some quite obvious noise from the AF motors.
And for this reason alone the 85mm GM doesn't make it to the top of my list of the best a7III lenses for video.
If this last point puts you off – or the G-Master is simply out of your price range – then maybe take a look at the FE 85mm f/1.8. It's also a great little mid-length telephoto lens for videography.
Albeit one that offers a slightly slower maximum aperture than the G-Master.
The A7III Videographer's Buying Guide
The faster the maximum aperture a lens offers, the more light it will be able to shine onto your camera's sensor.
This can make the difference between getting a technically perfect shot or having to compromise in some way (e.g. higher ISO or slower shutter speed).
The thing is, though, a fast maximum aperture is an advantage you can usually expect to pay more money for. Often quite a lot more money.
True, if you are the kind of videographer who uses artificial lighting for every shot, you will be in full control of the quantity of light falling on your subject. This means that you can maybe get away with using a slower maximum aperture.
But aperture isn't just about exposure, but also depth-of-field. And for a truly cinematic look, the shallow depth-of-field created by a wide iris opening is the only way to go.
That means choosing a lens with the fastest maximum aperture you can afford.
The quality of out of focus areas of an image is what is referred to as bokeh.
Exactly how the bokeh of your footage looks will depend on the lens you use. With some lenses producing more attractive bokeh than others.
For example, some bokeh is beautifully soft and smooth. Making the background of your shots a real pleasure to look at – if the viewer even notices the background at all.
Other lenses produce bokeh that is busy, or that includes optical artifacts and imperfections.
These can be distracting. Meaning that the viewer is looking at the background instead of concentrating on whatever important action is taking place in the scene.
Having gone to the trouble of achieving the shallow depth-of-field look by blowing the background totally out of focus (see Maximum Aperture, above), you'll want to be sure that those out of focus areas actually look good.
This means choosing a lens that produces attractive bokeh.
Many different technical factors contribute to the way in which a lens renders out of focus areas of an image. And so there's no simple formula we can follow for understanding how the bokeh of a given lens is likely to be. The only way to know is to try before you buy.
When it comes to shooting video, it can be helpful to divide camera users into two categories; videographers and cinematographers.
I often use these terms interchangeably. But if I were forced to be more precise in my usage, I would say that a videographer is a hardworking professional who documents events – hard news, seminars, conferences, business and social occasions, perhaps even weddings – in a clear and informative way.
Meanwhile a cinematographer is more concerned with the art of storytelling and the craft of image making.
Of course, there's often quite a lot of overlap between the two categories.
But essentially the videographer strives for technical proficiency in difficult shooting conditions, and therefore prefers to use whatever techniques help to get the job done with the least amount of fuss. This usually means using autofocus.
Cinematographers, on the other hand, are frequently looking for more creative solutions.
Speed and convenience are not top priorities.
And cinematographers often have both the time and opportunity to be more experimental in their approach.
Here focusing manually can often produce the best results.
For this latter category of user, the problem with many modern camera systems – the Sony Alpha series included – is that manufacturers have largely taken to producing lenses that do not offer true mechanical manual focusing. But instead come with a simulated version of manual focus. I.e. turning the focus ring doesn't directly move the lens's mechanical components, but instead sends an electronic message to the camera, which in turn relays this to the lens's focus motors, which then move the lens elements for you.
When this is done well, most users will not notice much difference from true manual focus. Unfortunately though, it's rarely done well.
Fortunately some of Sony's lenses are very clear exceptions to this rule. And the G-Master series in particular tends offer a very reactive and well dampened "focus-by-wire" experience that can be quite satisfying to use.
Nonetheless, cinematography purists will often prefer to work with fully manual lenses.
Sometimes even quite old ones that lack many of the advantages of modern electronic lenses.
These can often be picked up secondhand for a very reasonable price.
However, you'll need an adapter in order to use them, and don't expect the experience to be the same as with a modern lens.
If using old manual lenses sounds like too much hassle, though, there are many great (but not nearly as cheap) modern manual lenses available for use with the Sony a7III.
For example, a lens such as the Voigtlander 65 mm F2 Macro APO-Lanthar offers true manual focus and incredible optics while also providing exif information to the camera.
What's more, it doesn't even need an adapter.
Just expect to pay anywhere between 10 or 20 times more for a modern manual focus lens than you would for an equally sharp oldie.
For those who prefer to benefit from the advantages of fast and accurate modern autofocus, however, Sony's range of native lenses for the a7III will likely prove the better choice. But if that's you, there's one other important issue to be aware of; motor noise.
For stills photographers, the amount of noise a lens produces when focusing is usually of no great concern (other than potentially being a little annoying). But for videographers who expect to use the audio recorded by the camera in the final edit, the whir and grind of focus motors can be enough to ruin a shot.
If you'll largely be using audio recorded by a dedicated audio operator with an external mic boom, this is probably not an issue you really need to worry about. However, you would still do well to avoid excessively noisy lenses.
Most native lenses for the Sony a7III are very quiet. But by no means all. Choose wisely.
All other things being equal, I don't think that any photographer or director would ever choose a lens that produces soft images over a lens that produces sharp ones.
With that said though, there's a limit to how much it's worth getting caught up in the current obsession with lens sharpness.
The fact is that most modern lenses are extremely sharp anyway. At least in the center of the frame.
To be sure, you should definitely avoid any lens that suffers from serious issues in this area.
These are few and far between, however, and any native lens for the Sony a7III that doesn't produce a nicely sharp image is likely faulty and should be returned to the dealer.
Having said this, it's common for lenses – even optically very good lenses – to be considerably less sharp towards the edges of the frame than they are in the center when used at wider apertures.
This might be a major problem for you if you are in the habit of placing your main subject to the sides of the shot. Most people, however, tend to compose with their subject in the middle of the frame or following the rule of thirds. In this case, if some of the background turns out to be less sharp than the foreground, it is unlikely to be a major worry.
As I said above, modern lenses all tend to perform pretty well on sharpness.
But there can be real differences in performance in this area – no matter how subtle – particularly at wider apertures.
So if this is an issue that is important to you, be sure to check for sharpness both in the center and towards the edges – and at a variety of aperture settings – before deciding which lens to buy.
Both primes and zooms have their respective advantages and disadvantages.
The advantage of a zoom is simply convenience; it's effectively several lenses in one, allowing you to cover a variety of cinematic tasks with a single piece of glass.
But precisely because a zoom is effectively several lenses in one – and in practice this means packing a lot of extra optics into the lens – the disadvantage of zooms is that there is frequently a corresponding compromise in image quality.
Not only that, but zooms generally tend to have slower maximum apertures than primes; often ones that do not remain constant throughout the zoom range either.
Needless to say, then, the advantage of prime lenses is that they tend to have superior optics and faster maximum apertures than zooms – at least when compared dollar for dollar.
Of course, with some zooms you can have your cake and eat it too. As is the case with the 24-70mm f/2.8 G- Master above, which features a relatively fast maximum aperture and great image quality.
But on the rare occasions when this happens, you can expect to pay a handsome price for a slice of that cake. And, as maintaining optical standards throughout the zoom range requires more glass, it's also likely to be a pretty big and heavy piece of cake too.
The above advice is just as valid whether you're looking for a lens to shoot stills or movie clips. But for videographers considering purchasing a zoom there's another important issue to consider; focus breathing.
If you plan on zooming while you film, you'll need to be certain that changing the focal length setting of your zoom doesn't also alter the focus position.
To be sure, you wouldn't really expect this to happen with any lens, but the fact is that with some lenses it can and does. And if you've got your focus nailed for a shot, and then need to zoom mid-take, you don't want to find out in the editing room that the second half of the clip is unusably soft because you accidentally moved the point of focus off the subject while zooming.
With its full frame sensor and fast and accurate autofocus, the Sony a7III is well suited to serious movie work. But choosing a lens for video with the a7III involves a number of important considerations beyond those that apply to photographers and more casual video shooters.
While autofocus is clearly one of the the Alpha 7III's strongest points, not all users will want to rely on autofocus for all shots. And sadly true manual focus is not something that native Sony lenses offer.
Nonetheless, Sony is by no means alone in using the focus-by-wire system for "manual" focusing. Indeed, it's common among most modern lens manufacturers.
So for those who prefer true manual control of focus, vintage glass may be the way to go.
With that said, Sony's implementation of focus-by-wire technology is among the best in the industry.
And many native Sony lenses provide a manual focus experience that is very close to that of a true mechanical lens. Even if certain focus-racking effects may be harder to accurately achieve via focus-by-wire.
As we've seen above, lenses for the Sony a7III also offer filmmakers many distinct advantages over legacy lenses. So before choosing which path to choose, you may want to weigh up the pros and cons of each solution.
Which Sony a7III lenses for video would you recommend? Are you happy using autofocus for your videography? Or do you consider true manual focus to be essential? I would love to learn about your experiences in the comments!