The Panasonic Lumix GH5 is the camera that many filmmakers have been waiting for.
It represents the culmination of recent advances in mirrorless cameras and the full progression from still-only digital SLR to real video powerhouses.
The GH5 is a Micro Four Thirds camera, commonly called Micro 4/3 or MFT.
The lens mount on these cameras is standardized, which means that a wide variety of lenses are available.
If you're new to Micro 4/3, this can present a daunting dilemma. Which GH5 lenses are best for video work?
This Panasonic-native lens is fully compatible with the GH5 and offers two significant advantages.
At 24 to 70mm (35mm equivalent), this lens is probably one of the most common carry-around sizes around.
Unlike less expensive lenses, the aperture remains constant throughout the entire zoom range.
This is the perfect lens for an MFT camera because it makes full use of the smaller form factor.
A lens with these specs for a full-frame sensor would cost at least twice as much, and it would be three times as heavy to boot.
The Lumix Professional line of lenses are top-notch quality with excellent dust, splash, and freeze resistance.
The lens is great for both video and photo.
While it's not branded as a Cine-style lens, the Lumix line is optimized for video with smooth aperture changes and a silent drive autofocus system.
The lens is specifically designed to handle 4K video with no problems.
The Power OIS (optical image stabilization) works in conjunction with the built-in stabilization of the GH5 for super-steady video work.
Another option for your standard zoom is the Olympus M.Zuiko Digital ED 12-40mm f/2.8 Pro.
Olympus MFT lenses have a clutch mechanism to allow you to do pull-focus video work, which is a huge plus.
On the downside, the lens doesn't have stabilization, and if it did, it wouldn't work with your Panasonic anyway.
But this is negated by the camera's stabilization, so it comes down to a draw between these two fine lenses–choose between better stabilization on the Panasonic or better manual control options on the Olympus.
If your budget is tighter, Panasonic makes a lens with the same feature set that just isn't as fast, the Lumix G Vario 12-60mm f/3.5-5.6.
Lenses between 70 and 200mm are some of the most popular for event and wedding videographers who need to get up close to the action.
But like the wide-angle options, good quality glass in this range is expensive. Panasonic's 35-100 f/2.8 II fits the bill nicely.
This is one lens that you want the image stabilization to work perfectly on, and since this lens's optical system works with your camera's built-in sensor-based system, you can make full use of the Power OIS system.
The closest focusing distance is less than three feet, as well, which makes this lens a pretty good macro lens with its reach of 200mm (35mm equivalent).
And weighing just over three-quarters of a pound, you'll make those guys hauling around their white Canon L-series lenses green with envy.

Many users, especially video users, may find this becomes their go-to lens that stays on their camera. I think it's too long to be your primary lens, but it's a matter of technique.
This zoom range is suitable for filling the frame with action, and it's versatile enough to be good at pretty much any type of shooting. It's important enough to have that it's worth spending the money on a fast one that works perfectly with your camera body.
If you purchase a nice fast standard zoom, then the only problem you'll have with it is that the zoom either doesn't reach out or in far enough.
The one that bothers you first depends on what you're shooting; I'm an outdoor landscape guy, so I need something wide.
Wide-angle zooms are expensive, though. This is one area where, unless you absolutely need the functionality of electronic zoom or aperture control, you can find some better values in fully manual prime lenses.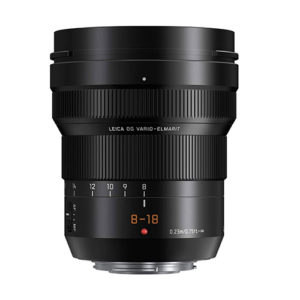 The Pansonic Lumix Professional Leica 8-18 f/2.8-4.0 is my favorite for the GH5.
At 8mm, this lens has a super-wide field of view with little distortion.
Designed by Leica, you can rest assured that the optics are top-notch, which is very important in this size range lens.
Compared with prime lenses, it's hard to find one that gets wide enough to be considered wide with the GH5's crop factor.
At 16mm (35mm equivalent), this lens squeezes a lot into the frame.
It's fast too, with f/2.8 on the low end. If the 8-18mm is out of your price range, check out the Panasonic Lumix G Vario 7-14mm f/4.0. It's still a pretty fast lens at f/4.0, and it has a very similar zoom range.
The wide-angle zoom lens isn't in everyone's kit. I usually carry a few less expensive and faster primes to capture city or landscape footage in all lighting conditions. That said, these Panasonic zooms have even broader fields of view than the primes.
Prime lenses represent a fantastic value for the videographer because they enable you to get far better optics in your lenses and usually at a lower price.
Designers and manufacturers can make a lens that works superbly because they don't have to make the compromises necessary to produce the zoom functionality.
Prime lenses are usually faster, smaller, and less expensive, all while boasting much better image quality.
Wide-angle lenses are touch and go. If you go too wide, you get into making footage that is so distorted as to be difficult to watch.
If you're specifically looking for a fisheye lens, I've got those listed below under specialty lenses.
The Panasonic Lumix G Leica DG Summilux Lens, 12mm, F1.4 ASPH, is rectilinear, which means it keeps the image square without that funny fisheye effect.
It's wide enough to make it perfect for wide outdoor shots and fast enough for low-light work after dark.
It's two full stops faster than the f/2.8 zoom lens above, and it sells for under $200.
That's all pretty hard to beat. Actually, that's a pretty hard to beat combination compared to any lens manufacturer or any camera format.
The traditional size prime lens in 35mm terms has always been 50mm.
On a GH5, that means you're looking for a 25mm lens. These lenses are usually relatively cheap and fast.
Our top pick meets both criteria–the Panasonic 25mm f/1.7 costs well under $200 and is a handy lens to have.
It can do landscapes or portraits, closeups, or interviews. If you've got a zoom and you aren't happy with how slow it seems, this is an easy way to get a fast lens for not a lot of money.
Another option of particular interest to videographers would be to find a budget-friendly cine-style manual lens.
The Rokinon 35mm T1.5 Cine for MFT has a little more reach at 70mm in 35mm equivalents.
But the cine features give you a little more creative flexibility if you want to go old school with focusing or aperture changes while filming.
Portrait primes fall somewhere around 100mm, give or take 30mm or so.
The exact lens you choose is a matter of personal preference and has more to do with your filming style.
For video, I think that a little bit wider is preferable. 
If you get the camera closer, you should better appreciate the nice bokeh these fast lenses make.
The native Panasonic Lumix G 42.5mm f/1.7 OIS is a bargain. Another great option is the Sigma 56mm f/1.4 Contemporary which gets you a little more reach and another half-stop of light but lacks optical image stabilization.
It doesn't get much more specialized than macro video.
Yes, you can make nearly any lens work if it's long enough.
Many zoom lenses are labeled "macro," but this is more about marketing than performance.
Dedicated macro lenses should be long enough to get close to the subject and have a minimum focus distance of as little as possible.
The Panasonic Lumix G Leica DG Macro-Elmar 45mm f/2.8 has a minimum focus distance of only 45 millimeters.
If you want a little more expansive field of view, the Panasonic Lumix G Macro 30 f/2.8 OIS saves you a lot of cash.
It makes a pretty nice standard prime lens, too, with a 60mm 35-millimeter equivalent focal length and a minimum focus distance of 60 millimeters.
Wildlife and bird photographers want something that gets them as close as possible to the action.
While the pros might choose super-fast primes in this area, many people like having a long zoom lens.
It makes it possible to fill the frame, whether shooting your kid's soccer game or that endangered eagle. 
Super wide-angle lenses don't have a cost an arm and a leg.
Most video shooters use this sort of lens very rarely, for the occasional interior shot or sweeping scenes of the night sky.
The Rokinon 10mm T3.1 Cine is a value.
At the price of the Rokinon, you almost have to wonder why you wouldn't buy it.
It gives you a super-wide lens to play with and have in your bag should the need ever arise.
In my experience, Rokinons have fantastic optics and produce stunning footage and images. Some users report that their focus rings are calibrated poorly, though.
If you want the full-on fisheye effect, the Panasonic Lumix G Fisheye 8mm f/3.5 is one option. Personally, I love a fisheye lens effect, but I use it so rarely that I would rather have a cheaper manual lens.
The Rokinon 7.5mm f/3.5 isn't a cine-style lens, but it would give you the capabilities at a tiny fraction of the cost.
Keep in mind that focus or aperture changes won't have much effect at these focal lengths unless your subject is extremely close to the camera.
The GH5 Filmmaker's Lens Guide
What Makes a Lens Good for Video?
Cinema lenses, or cine lenses as they are known, are hefty and cost tens of thousands of dollars.
But as mirrorless and Micro Four Thirds camera bodies have become more and more popular with filmmakers, cine versions of regular still-image lenses have become available.
So, what makes a cine version different?
And how is it any better than the regular version of the same lens?
Most of the difference comes down to how smoothly the lens can be used during the video shooting.
If you're ever tried to use a cheap SLR kit lens to do a zoom-in shot, you know it's next to impossible to do it smoothly.
Cine lenses have extra smooth focus rings designed to be moved easily and smoothly in the video.
The same goes for the manual focus function on these lenses. A cine lens should always be parfocal, meaning that the focus point does not change as the lens is zoomed.
That means you can have your subject remain in focus while zooming in or out on them.
The zoom mechanism on the lens is also always internal so that big lens shifts don't change the center of balance on dollies and steady cams.
Finally, the aperture ring is also designed to operate smoothly so that no motion is detectable in the finished video.
It is measured in T-stops, which is a complete measure of the aperture's size and the amount of light entering the lens.
T-stops are useful for video since they include the lenses' focal length in their measure of light entering the camera.
That means that if multiple cameras are used to shoot a scene, the resulting exposures should be very similar if the same t-stops are used on all of them.
Keep in mind that Panasonic has marketed the GH5 in their MFT offerings heavily towards the video market.
That's good because they want their native lenses to work well for moving pictures.
Their Lumix lenses all feature quiet or silent autofocus drives and electronic zoom and aperture changes.
Their optical image stabilization systems integrate with the system built into your GH5, too.
This is all grand if you make your changes electronically, but if you want to try any fully manual shooting, look into some of the cine lenses made by Rokinon or Meike.
Prime Versus Zoom Lenses for Videographers
One matter of personal choice comes down to prime versus zoom lenses.
Many beginning photographers and videographers are familiar with zoom lenses simply because most consumer cameras have some form of zoom.
Most camera bodies are sold as a kit and come with a simple zoom lens.
But when you start looking at professional-grade lenses, you will quickly realize that prime lenses, or lenses that do not zoom, are a lot cheaper.
At first, you might think that one zoom lens could replace three or four primes, which is true when comparing only focal lengths.
But if you are looking for the best glass and the sharpest images, most zoom lenses are compromises.
Prime lenses are less expensive, sharper, smaller, and faster than most zooms.
They're also smaller and lighter on the camera.
Another great advantage to them, especially when using an MFT camera, is that they haven't changed very much in decades.
If you're open to ditching autofocus and autoexposure, you can pick up super high-quality used lenses on eBay or from used camera shops for pennies on the dollar.
You can mount quality glass from Leica, Zeiss, Nikkor, Canon, or pretty much any other type or brand with simple adapter tubes.
On the other hand, having one zoom lens that meets your needs most of the time is very handy.
Many videographers call this their travel lens.
There are many examples of great zoom lenses that are favored by wedding and event videographers.
In these situations, you may need to zoom in on the action quickly, and you may not have time to move a prime lens closer.
Image Stabilization
Image stabilization comes in two forms: optical image stabilization (OIS) provided by a lens and stabilization included in the camera's sensor. The GH5 has both types of stabilization available, though you have to use a native Panasonic Lumix lens to take advantage of OIS.
By combining the two technologies, Panasonic claims that the GH5 can achieve up to a five-stop improvement over other lenses.
If you're dealing with truly low-light situations and you don't have the time to set up the camera on a tripod, that might make a big difference.
There's no doubt that stabilization is an excellent tool to have, especially for hand-held footage or if your lens is slower than you'd like it to be.
For shooting events or street videos, it should be considered a must-have. But for any shots where you have time to set up and use tripods, a higher-quality, faster lens will likely make a bigger difference in your work.
Manual or Automatic Lens Settings
Panasonic's native lenses are all fly-by-wire, meaning that everything is electronically controlled.
It has a traditional focus ring, but this ring drives an electronic motor to move the lens elements.
This works fine in most situations, but if you're looking to do pull focusing on video, you will likely prefer one of the brands that have a traditional mechanical focus ring.
Olympus MFT lenses feature a clutch mechanism, which allows the ring to work mechanically on autofocus lenses.
That's a really nice feature to have for video.
It may seem an odd choice, but many many seasoned videographers love shooting with fully manual lenses.
Seeing this as a market opportunity, there are several companies that are now making high-quality lenses without all the fancy electronics.
They're a great bargain if you're willing to give up autofocus and electronic apertures. Rokinon, Samyang, and Meike are three examples, and all companies offer full lines of Micro Four Thirds and Cine lenses.
GH5 & Micro 4/3 Lens Compatibility
The two biggest names in the MFT camera market right now are Panasonic and Olympus. Sigma, Rokinon, Meike, and Tokina also make lenses for the MFT market.
And since the MFT lens mount is standardized, you can use Olympus MFT lenses on your Lumix GH5 with no problems, right?
Well, you can certainly use them.
But there may be problems that you need to consider.
The biggest problem comes not from the lens working but from all of the built-in toys.
If the Olympus lens has built-in optical image stabilization, it may work.
But it will not work with your Panasonic body's sensor stabilization, which means you won't be getting the full effect.
So why would you spend the money to buy a quality lens from Olympus when you only get half the effect of the stabilization on your camera? If a lens has no electronic functionality, like those fully-manual Rokinon or Meike Cine lenses mentioned, then compatibility issues are not a concern.
Some lenses are more functional than others. For a complete list of the lens functions available with the GH5 body, check out Panasonic's compatibility list.
Conclusion
There are so many different lenses available for the Micro Four Thirds format that it's really hard to choose the best. But when it comes down to it, all lenses are compromises between speed, focal length, features, and our budgets.
No matter which lens you choose, the GH5 is a stellar video machine.
Which lenses do you think are best for the sort of videos you shoot?