What is most overlooked lens in the photography world? I believe I have the answer when I say the macro lens. Sure, it's a great lens for taking those up-close-and-personal photos of insects and flowers but it's also a great lens for unique portrait photography.
Are you a macro photography hobbyist? Or maybe you're a pro looking to find a new angle (literally) to your photography. 
Whether they are inexpensive, high-end, or somewhere in the middle, here is a list of the best macro lenses for your Fuji X-Mount camera.
Why you should buy this lens:
If you want to stay in the Fuji family while also buying the best macro lens on the market for your Fuji mirrorless camera.
If you don't baulk at paying over a thousand dollars for a good quality lens, then this is for you.
Let's dig a little deeper:
You can do no wrong with a camera that users describe as delivering "creamy" bokeh. It almost makes your mouth water! All joking aside, the macro lens produced by Fuji is the quintessential macro camera for your x-mount camera.
At 80mm the lens gets you super close to your subject and the floating focus system reduces any lens distortion that may occur at that close-up distance.
Best of all, this lens is compatible with both of Fuji's teleconverter adaptors (click to see the 1.4 teleconverter on Amazon), which can lengthen your focal point by either 1.4x or 2x, depending on which adaptor you go with.
I recommend this lens to macro enthusiasts and portrait photographers because it lends an interesting angle to portrait photography and can even be turned into a great telephoto lens with the converter.
While the lens isn't exactly cheap, it sports a magnesium alloy shell, which keeps is resistant to weather and dust.
You should be able to put this lens in your bag and trust that it'll hold up to a regular amount of jostling.
I love Fuji lenses; they merge craftsmanship and practicality perfectly.
I would recommend this macro lens to anyone that wants to get serious with macro photography.
It might be an investment but it's one that will pay off for you. I think of this lens as the best macro lens for a Fuji X-Mount mirrorless camera. While you can get similar performance elsewhere, this is where the buck stops if you want to check every single box when it comes to getting the best macro lens for your Fuji camera. Are there better macro lenses out there? Yes, but they are made for other manufacturers.
Quick Look:
Great in low light due to its 2.8/f
Fast and sharp; great for up-close pictures
Teleconverter gives you inexpensive flexibility
Specifications:
Lens type: Prime lens
Max Format size: APS-C / DX
Focal length: 80 mm
Image stabilization: Yes
Weight: 1.65 lb
Materials: Magnesium alloy
Why you should buy this lens:
If you're as impressed by German engineering as I am, then the enthusiast in you would jump at the opportunity to own a Zeiss lens.
By the way, it performs similarly and is generally (at most retailers) cheaper than the Fuji lens.
Let's dig a little deeper:
There is something thrilling about owning a Zeiss lens. The logo itself is a moniker of high quality.
It feels good to pull it out of your bag and put it on your camera.
With that said, this Zeiss macro lens is actually cheaper than the Fuji macro, yet still boasts the attention to detail and extreme quality of a German-made lens.
I'd suggest this lens to anyone looking for a macro prime lens.
I especially love the anti-reflective coating that Zeiss adds to their glass. There's no need for a polarizer with this lens; it'll even out your colors, reduce glare, and increase clarity right out of the box. Like Fuji's macro lens, this Zeiss lens also benefits from a floating focus system, which is helpful for macro photography.
Both the aspherical shape of the lens and the floating focus work together to ensure your extreme close-ups are taken with a minimal amount of edge distortion.
Quick Look:
Great price for a Zeiss lens
Compares in many ways to the Fuji macro
Glare and edge distortion are reduced thanks to built-in design features
Specifications:
Lens type: Prime lens
Max Format size: APS-C / DX
Focal length: 50 mm
Image stabilization: No
Weight: .64 lb
Why you should buy this lens:
Maybe you just got your camera or you've had it a while but want to get into macro photography.
Are you on a budget? Not super serious about macro?
If you answered yes to either of these questions, then go for the Meike 500mm macro lens.
Let's dig a little deeper:
Not everyone needs the best of the best for their lenses.
Some of us might be entering the macro photography game and just want something to play around with. While I wouldn't recommend the macro lens produced by Meike to a professional, I'd tell a budding hobbyist to give it a spin if they are still considering whether they want to shoot macro.
At just $75 you can afford to not like this lens that much. It's a great way to test the waters before you invest in the aforementioned Fuji or Zeiss macro lenses, which carry a much larger price tag.
However, this lens isn't shabby, either.
At 50mm it will get you close to your subject matter and produce shockingly clear photographs despite its low price.
The lens itself is manually focused, which guarantees that you will need a tripod to get clear macro photos.
I would even suggest a remote shutter release, as any kind of shaking to the camera will cause this lens to blur.
However, learning how to manually focus on the details isn't necessarily a bad thing! It can feel good to be in complete control of your photos.
Quick Look:
Startlingly cheap; you can't beat a $75 macro lens as long as it functions (and it does)
Great way to play around with macro photography without investing too much money
Manual focus means you need to stabilize the camera as much as possible but gives you complete control of your subject.
Specifications:
Lens type: Prime lens
Max Format size: APS-C
Focal length: 50 mm
Image stabilization: No
Weight: .70 lb
Why you should buy this lens:
It's not quite as astounding as the 80mm macro lens made by Fuji when it comes to getting as close as possible to your subject.
However, it's priced competitively, delivers macro photography, and can be used for portrait photography just as well.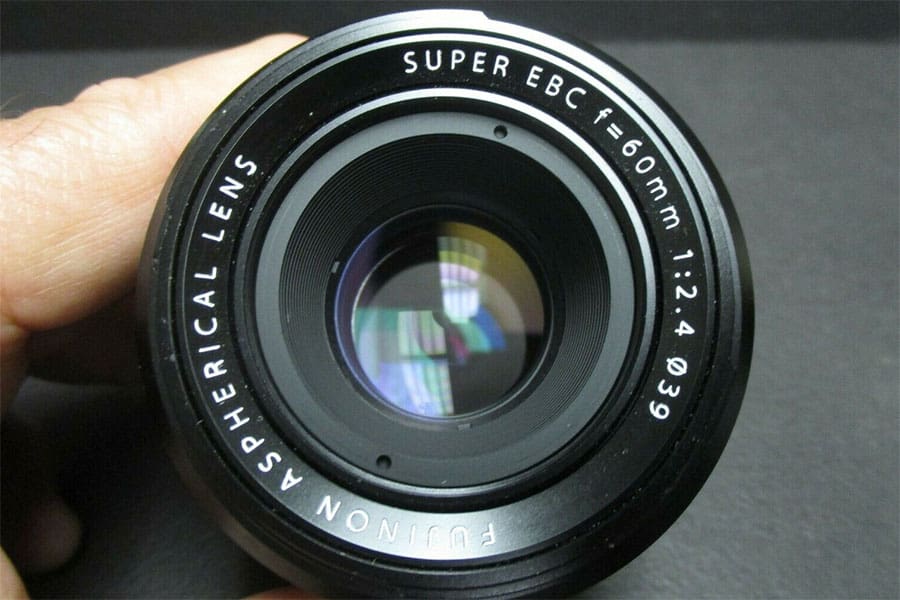 Let's dig a little deeper:
Are you looking for a "medium" range macro lens at price point somewhere between the aforementioned Fuji 80mm and the Zeiss 60mm?
Look no further than the Fuji 60mm macro lens, which the company touts as a "medium telephoto macro lens". What does that mean, precisely?
To me, it's a medium-range lens that works well as a macro lens and beautifully functions as a portrait lens.
Fuji's attention to detail shines, even at this lower price point.
While the aperture is lower than their more expensive lens it can still bring macro clarity to the table.
Like the Zeiss lens, its aspheric lens helps mitigate edge distortion when shooting up close.
While not a true 1:1 macro lens, the 60mm can get you close enough at .5x.
However, this lens really shines as a distinctive portrait lens; it'll shoot your subject with crystal clarity while giving you a delightfully blurred background.
Quick Look:
Great middle ground price point between the Fuji 80mm and the Zeiss 60mm
Will not get as close as a true 1:1 macro lens, but close enough
While its macro abilities are fair, this lens really shines as a prime portrait lens
Functions well in low light due to its low aperture (2.4/f) but loses some of its clarity in the process
Compact, lightweight, yet high performing
Specifications:
Lens type: Prime lens
Max Format size: APS-C
Focal length: 60 mm
Image stabilization: No
Weight: .47 lb
Why you should buy this lens:
At 100mm, this is perhaps the closest macro lens you can get for a Fuji mirrorless camera.
Don't let the brand name fool you; Samyang might be new to the game but they are making dependable lenses.
Let's dig a little deeper:
Samyang is a relatively young Korean optics company (established in 2015) that makes a wide range of "generic" lenses for most of the major camera manufacturers.
The lens boasts a minimum focal distance of only 1 foot, so you can certainly get right up to your subject!
With an aperture ranging from f/2.8 to f/32 you can kick it wide open, put this lens on a tripod, and shoot crystal clear 1:1 macro photos right out of the box.
Best yet, its price point is low enough that many professionals and hobbyists can keep this in their camera bag as a go-to macro lens and not fret about its lack of versatility.
While Samyang isn't a well-known company it pays to put your trust in a brand that is working to get its name out there.
Currently, the lenses made by Samyang are of great quality, at a competitive price point, and perform very well for what they are.
Quick Look:
At 100mm, this lens will get you close to your subject whether you like it or not
Manual focus gives you fine-tuned control, which you want with macro photography
Samyang isn't incredibly well-known but they make a great product at an even greater price
At around $550 you can afford to make this your standalone macro lens
Specifications:
Lens type: Prime lens
Max Format size: APS-C
Focal length: 100 mm
Image stabilization: No
Weight: 1.6 lb
Why you should get this lens:
You want a slightly better macro lens than the Meike macro lens but don't want to break the bank.
If you're just experimenting, then this is a good way to invest $150 into your photography gear.
Let's dig a little deeper:
I'll be honest, the strangely-named Korean lenses available on Amazon are a dime-a-dozen.
However, that doesn't mean they aren't worth looking at.
Like the Meike macro lens I mentioned earlier, the 7artisans 60mm macro lens is a great entry-level macro lens for a hobbyist that wants to experiment with macro photography without investing hundreds (or over a thousand) on a lens.
You might be wondering, what makes this lens stand out from the Meike lens? Not much. They both perform similarly.
The largest difference is that this lens is 60mm, which gets you a little closer to the standalone macro focal length (90mm+) yet still allows you to use this lens as a medium telephoto for something like portrait photography.
I added this lens to the list not because of its stellar performance, but to drive home the fact that you don't have to spend an arm and a leg to get into macro photography.
If you just want to play around, then a generic lens like this will do the trick. Once it's in your hands and you find that you're in love with macro, then you may want to consider getting a more expensive lens for your Fuji mirrorless camera. While this camera comes in at almost twice the cost of the Meike lens it makes up for it with a longer focal length and some accessories.
Quick Look:
Great entry-level lens that won't give you sticker shock
Comes with a pouch and a focus wrench for helping with manually focusing on your subject
The body is entirely made of metal so it has a professional feel to it
60mm with APS-C frame gives you a 90mm focal length through the lens
Specifications:
Lens type: Prime lens
Max Format size: APS-C
Focal length: 60 mm
Image stabilization: No
Weight: 1.21 lb
What Does "Mirrorless" Mean?
A mirrorless camera is one that lacks a reflex mirror or even an optical viewfinder; they are truly digital.
Mirrorless cameras are faster, lighter, and function better in low-light than DSLR cameras. To put it simply, they are the next level of digital camera. As the technology matures, so too will the prevalence of mirrorless cameras over DSLR.
Why Choose
Macro?
Macro lenses are great for up-close photography but can also be used in portrait photographer. While you may lack the focal distance of a true portrait lens, a macro lens can be used to take distinctive photographs of your models.
What is Bokeh?
What exactly is the definition of that strange word? Bokeh is the effect seen when a photographer keeps the foreground in crystal clear focus while making the background blurry.
It's a popular stylistic choice created by using a fast aperture, getting close to your subject, and shooting with your lens wide open.
With a macro lens the clever use of bokeh will bring the microscopic world we take for granted into startling detail or make your portraits pop with clarity by making the background abstract.
What is Fuji's Floating Focus System?
Floating focus systems have lens elements outside of the lens's primary focus range that change position when necessary to give you the utmost clarity when taking close-up photos by reducing edge distortion.
A floating focus system lends itself well to macro lenses.
What is a Prime Lens vs. a Zoom Lens?
To put it simply. A prime lens is any lens with only one focal point (think 50mm).
On the other hand, a zoom lens will have a focal range that it can access (by zooming in or out, hence its name).
Prime or Zoom for Macro?
In the photography world, these kinds of questions never have a cut-and-dry answer.
The quality of your lens has to do with a number of factors some of which have nothing to do with the lens itself.
However, if you know you are only going to be operating at a specific focal range, then you should consider a prime lens. If you need more flexibility, then a zoom lens in your best bet.
What is Aperture?
The aperture of your lens is the size of the hole created by your shutter.
The larger your aperture number, the smaller that hole is and the less light it lets in. Less light means your foreground has a ton of clarity while the background is blurry (we call that effect bokeh).
What is the Ideal Aperture for Macro Photography?
Many professionals say that a higher aperture is better for macro photography. However, it's more challenging to work with a higher aperture due to the longer exposure that is needed. A good "goldilocks" aperture is 2.8, which gives you some flexibility when it comes to lightning conditions and lets you get by, more or less, with just a tripod.
Do I Need a Tripod?
Remember what I said about photography and cut-and-dry answers? That still stands true.
However, I would generally suggest you use a tripod when shooting macro because, the closer you get to a subject, the more obvious the movement of your camera is.
A sturdy tripod reduces shake, giving you a clearer photo. In the macro world, even a little bit of blur is bad news.
What is Image Stabilization?
You might see this feature a lot as you browse lenses.
Some of have it, some don't and it doesn't always say anything about the quality of the lens. In camera lenses, image stabilization is primarily done through the use of electromagnetics. Without getting too far into the weeds, those magnets work to offset the typical "shake" caused by using a camera.
Is Image Stabilization Important in Macro Photography?
You would think that a feature like image stabilization is a godsend to the art of macro photography. While it can certainly improve the look of a macro photo taken under less than ideal conditions, it can actually get in the way of a professional and their crisp macro shot.
That's because, when your camera has been stabilized externally using high-end equipment, the very act of image stabilization can move the camera enough to undo the painstaking work already done by a professional.
For this reason, many macro enthusiasts recommend that you disable it.
List of X-mount cameras
Fujifilm X-A1
Fujifilm X-A2
Fujifilm X-A3
Fujifilm X-A5
Fujifilm X-A7
Fujifilm X-A10
Fujifilm X-A20
Fujifilm X-E1
Fujifilm X-E2
Fujifilm X-E2s
Fujifilm X-E3
Fujifilm X-H1
Fujifilm X-M1
Fujifilm X-Pro1
Fujifilm X-Pro2
Fujifilm X-Pro3
Fujifilm X-T1
Fujifilm X-T2
Fujifilm X-T3
Fujifilm X-T4
Fujifilm X-T10
Fujifilm X-T20
Fujifilm X-T30
Fujifilm X-T100
Fujifilm X-T200
Final Words
How do you use a macro lens? Are you a nature buff or an out-of-the-box portrait photographer?
Beyond that, how do you feel about the increased interest in mirrorless cameras? I think there will be a place for DSLR cameras for quite a while longer but as mirrorless tech improves, so too will mirrorless cameras become a staple in our industry.
Of course, if you have some macro lens recommendations let me know in the comments.