Every photographer has their style and preference for which lens they carry on assignments. Some portrait photographers prefer a wide 35mm lens, while others will not shoot with anything besides an 85mm.
So which Canon RF lens should you use to capture an arresting portrait photograph?
Our lineup of best Canon RF lenses for portraits include the Canon RF 85mm F1.2L USM lens for spectacular flattering close-up or full-length portraits.
With a 1.2 F-stop, this prime lens delivers creamy background bokeh, captures facial contours, and puts your subject at the fore.
Since every lens has particular qualities, we are taking the time to explain in detail the pros and cons of specific lenses from the RF series.
We also analyze factors that make for terrific, characterful portraits. Watch out for our portrait photography tips that you can use to enhance your photographs when you read on.
The Canon RF 85mm F1.2L USM is a spectacular lens that takes full advantage of the benefits brought in with Canon's full-frame mirrorless system. 
In my opinion, it is the best lens for flattering portrait photography, and it is grabbing rave reviews.  
In a review of the Canon RF 85mm F1.2L USM by Digital Photography, the words that describe the lens say it all. 
For Digital Photography Review, "the lens approaches optical perfection." But what does that mean for photographers?
As part of Canon's L-series of RF lenses, the lens has been designed to deliver optimum professional quality images. Admittedly, this is reflected by the price, but it is worth the price tag. 
The focal length captures facial features in a flattering way, yet the lens is wide enough to highlight the subject's unique facial qualities. 
While the lens has some drawbacks, the qualities I've mentioned make the 85mm the ideal focal length for snapping portraits. 
What's more, Canon designed the lens with portrait photographers in mind, so it delivers pin-sharp detail on crucial features. It also softens and blends skin tones to reduce blemishes.
 In all, the lens produces sharp detail where you want it and forgiving qualities where your subject will appreciate them the most.
The Canon RF 85mm F1.2L USM has thirteen elements, making the most of Canon's cutting edge technology. 
Some of these elements include BR (Blue Spectrum Refractive), UD (Ultra-low Dispersion glass) to reduce chromatic aberration, and aspherical. It's got a 9-blade aperture system, works well with Eye Detection Auto Focus, and the lens performs brilliantly in low-light situations. 
One of the lens's standout features (besides the quality of the glass itself) is the control ring, which lets you efficiently manage various control settings without you having to take your eye off the shot. 
The EOS R LCD also readily displays the lens data so that you can make micro-adjustments on the go.
For those who shoot in changing or adverse weather or terrain conditions, the lens is sealed against moisture and dust, so you can stay that bit longer in an inclement situation to get the shot. 
And if you are a photographer who's consistently on the move, Canon has produced a vibration shock resistance system, so your lens is capable of maintaining focus and settings even in turbulent situations.
When you are shooting, grabbing the fleeting micro-expressions of your subject, you want to adjust your lens swiftly to changing light conditions and distances. 
The 12-pin connection system with the RF gives you super-fast AF and user experience. 
The DS Version of the 85mm F1.2L USM
For the eagle-eyed, there's also the Canon RF 85mm F1.2L USM DS, which delivers everything its cousin does, and it promises a touch more. 
Canon explains the lens captures even more flattering shots with a DS coating, as it raises consistency of skin tones and softens bokeh further. 
A drawback of the DS version is you'll compensate slightly with ISO settings. If you are able, it's worth a side-by-side comparison of shots by each lens in the same light settings. 
Then, check out what you gain (or lose) with the DS once you are in the edit.  
Our verdict? 
The Canon RF 85mm F1.2L USM has it all and then some. It's not a lens for beginners, though. You'll want to know your way around a camera and lens control before investing, but when you are ready, this will help you capture extraordinary portraits.
The Canon RF 85mm F1.2L USM is a superb lens, but perhaps you are wary of your budget and don't want to stretch to the L-Series. We get that, so here's an overview of Canon's other RF 85mm lens option.
The Canon RF 85mm F2 MACRO IS STM is the affordable alternative to Canon's L-series 85mm.
We've already identified the 85mm as the optimum portrait lens, yet here we are, coming back to Canon's offerings within the 85mm lens range.
That's because this lens offers something different: Macro capability, which we'll look at shortly.
It also offers affordability without compromising on quality.
The Canon RF 85mm F2 MACRO IS STM is lighter and cheaper than the RF 85mm F1.2FL, which is a boon for photographers who are upgrading their kit and can't quite stretch to the L-series.
But how does the F2 compare?
First up, F2 delivers lovely soft bokeh but nothing like the bokeh you gain from F1.2. 
The Canon RF 85mm F2 MACRO IS STM is a light, compact lens with a focal length that delivers a flattering perspective and shallow depth of field for creamy background bokeh.
The F2 aperture and built-in 5-stop IS means this lens functions reliably well in low-light situations. 
Unlike the costlier L-series version, you gain the impeccable close-up detail of shooting with Macro plus near-silent shooting thanks to STM.
Why Choose a Lens That Does Macro? 
One word: detail. You get to zone in on the fine details that lend your subject their quality.
Already, the RF lenses deliver impeccably sharp shots. With the Macro option, you can get in close to study intricate detail that brings a new level of depth and complexity to your images. 
At the same time, the 85mm in non-Macro mode is a superlens to have in your kit, and we're confident you'll be capturing some exquisite portraits with it almost as soon as you've set it on your camera body. 
With every photographer, it comes down to a matter of aesthetic preference. Maybe you are more of a classicist? If that's the case, the next lens is for you. 
Next, we want to highlight the 100mm for getting tighter cropped portraits and full-length images.
We'll also cover how a 100mm lens compares to an 85mm in terms of the images it produces.
A 50 mm lens sets you up for the classic portrait shot, and the Canon RF 50mm F1.2L USM is a top-level professional-caliber lens that's got pretty much everything the RF 85mm F1.2 L USM has.
The difference you'll notice with the 50mm lens is what gets into the shot and how close you can get to your subject. 
First, I want to remind you of the standout qualities you receive when you pick an RF L-Series lens. 
The ring control gives you the sense of shooting manual, as you manage settings from the lens, giving you an intuitive experience as you hone on your subject and compensate for changing light qualities.
The 12-pin communication system delivers rapid communication between lens and camera for ultra-fast response to your adjustments. 
The lens has Canon's vibration shock resistance system in place alongside special lens coating and seals that make this moisture and dust-proof so that you can venture almost anywhere, in any condition with your RF 50mm F1.2L.
And we have to highlight the standout feature of this series of lenses: the 1.2 F-stop. With F1.2 maximum aperture, you gain the ability to shoot with extraordinary shallow depth of field. 
We're talking about bokeh, again, and the means to accentuate your subject. 
The wide aperture means faster-shutter speeds despite low-light situations so that you can snap your moving subject without camera shake.
50mm vs. 85mm: What's the Difference?
We need to differentiate what you get with a 50mm that you don't get with an 85mm.
You gain subtle differences when you shoot with either a 50mm or an 85mm. 
You can get closer physically to your subject with a 50mm, yet the shot will include more background detail.
Your minimum focal distance with the Canon RF 50mm F1.2L USM is 0.4 m (15.75"), which gives you an increased depth of field. Therefore, your portrait will have a greater defined background. 
If you are taking a portrait in an extraordinary setting that enhances your portrait subject, the background is a detail you want to keep as it shows your subject in context and adds character and depth. 
Simultaneously, the f1.2 enables you to isolate your subject, so they stand out. 
As with all photography, the shot you create is down to your qualities and style as a photographer. Many professional photographers have a 50mm or an 85mm in their kit. 
They switch between the two depending on what they want to get from their photograph. 
Both the 50mm and 85mm within the RF L-series clean up on reviews. Users cite the lenses as close to perfection. But in case you are still open to suggestions, read on for our next best Canon RF lenses for portrait photography. 
The Canon RF 24-70mm f/2.8L II USM is what we can call your work-a-day go-anywhere, and shoot almost anything you want.
This fast aperture zoom lens is adaptable. You can shoot either landscape or portrait with it. 
Let's focus on what makes it perfect for a portrait photograph.
For one, when you are on location and your subjects are at variable distances from you, you'll want a zoom lens in your kit. It gives you a vast range of options, from as wide as 24mm to 70mm, which falls into the optimum range for classic portrait photographs. 
While some photographers say a 24mm lens is too wide for a portrait, if you are after reportage style photographs that capture your subject in their environment, you want to shoot wide. 
To gain the most from going wide, get close enough to your subject so they hold the composition's focal point but not so tight that you get distortion. 
On the subject of reportage style portrait photography, a zoom lens is a must for this type of work. 
You don't always manage to get close to your subjects or your subjects, especially if they're high-profile, won't wait long enough for you to switch lenses.
 A zoom guarantees you'll have everything you need at your fingertips to get the shot.
If you are a photographer who shoots portraits in a range of situations, the Canon RF 24-70mm f/2.8L II USM will ensure you are prepared for almost any occasion. 
As an L-series lens, you gain all of the benefits these lenses have to offer, plus you get rapid five-step image stabilization, so if you and your subject are on the move, you can still freeze your subject in pin-sharp detail. 
It comes with the manual control ring, so you can manually set your ISO, aperture, or shutter speed without taking your eye from the shot. 
The fast F2.8 aperture and image stabilization let you grab super-sharp pictures. Meanwhile, the lens has three glass-molded aspherical and three UD elements enhanced by optical coatings and a nine-blade aperture.
In our opinion, this lens should be essential for any photographer's kit, and it's a sound investment that'll pay you back with countless superb images. 
Not every portrait comes from being close-up with your subjects. Sometimes you need distance, and a zoom, to give your models space so they can be themselves while you shoot from afar.
Our next lens has got you covered.
With the Canon RF 70-200mm F2.8L IS USM in your kitbag, you are covered for every photographic eventuality, and then some. 
First, consider the range of focal lengths this lens lets you shoot. You've got your 85mm, your 100mm, and up. 
Even with subjects who are far away, with this lens on your camera, you can get up close with your subjects without physically imposing upon them.
Add the outstanding F2.8 stop to the versatility and range of the lens, and you'll be looking at photographs that have gorgeous bokeh.
If you're shooting in low-light situations, the aperture capability is there to support you shooting in light conditions where other lenses would struggle. 
And if those subjects of your portrait, kids for example, are moving fast? 
The Canon RF 70-200mm F2.8L IS USM has exceedingly fast AF thanks to the Dual Nano USM, which delivers smooth, silent, and accurate auto-focus.
Since it's part of the L-series, the Canon RF 70-200mm F2.8L IS USM delivers every advantage of Canon's L-series professional-level lenses. 
The manual control ring means you can control your settings from the zoom, giving you an intuitive experience that doesn't interrupt your workflow.
For some people sitting for a portrait before a massive zoom lens is intimating. Not so with this lens. 
It's compact. 
While it telescopes outwards, it has a compact design, and it's light, so it won't be imposing on either you or your models as you carry it throughout your shoot. 
While there's an argument that if you have the prime lenses, you shouldn't need a zoom, the Canon RF 70-200mm F2.8L IS USM frees you up from switching between lenses during a shoot. 
With the build quality and image quality, plus the fast AF, we're certain this bit of kit will become your go-to thoroughbred workhorse once you've tried it.
Finally, and worthy of a mention in the line-up for Canon's best RF lenses for portraits, we go wide.
This option is the best reportage style portrait lens.
We concede a wide-angle lens might not be everyone's immediate idea of a lens that takes incredible portrait photographs. 
Still, we believe strongly that the 35mm is a contender for reportage style portrait photographers. 
A 35mm lens is said to see the world almost equivalent to the way the human eye. 
What does that mean when you are shooting portraiture?
Since it's a prime lens, you are going to have to get in physically close to your subject. Shooting with a 35mm means your shot will contain environment detail for extra depth and texture.
Enough about the use of 35mm in portrait photography for now. Let's look at what you get with this particular lens. 
Not counting the Canon RF 24-70mm f/2.8L II USM, this is the widest lens on our list. Canon's fast-focus, compact Canon RF 35mm F1.8 Macro IS STM is versatile, and it has Macro, which lets you go in close on the details that give your subject their complexity and character.
An element to be cautious of when shooting portraits on a wide-angle lens is to check for distortion. 
By getting too close to your model, you risk throwing out their proportions, so keep an eye on this when framing your shot. 
This compact lens, measuring only 63mm and weighing only 305g (0.67lbs), has a minimum focus distance of 17cm, and it has a maximum magnification of 0.5x, and it's a real reporter's lens. 
If you are prone to moving around your subject, this lens won't impede you. Instead, it will capture your subject sharply and succinctly within their environment. 
With a maximum aperture of F1.8, you can shoot fast even in low-light and gain soft bokeh that throws your subject into relief. 
The images achieve quality from the realistic perspective that 35mm delivers, with minimal image distortion. 
At the same time, your portrait photograph benefits from the granular detail the Macro 1:2 option helps you pinpoint. 
The result is a photograph rich in intricacy and story since you can compose your shot to contain the information you want to include about your subject, be that their environment or the gleaming detail. 
There's also an image stabilizer and Canon's RF ring control, which puts everything you need at your fingertips to intuitively manage your shot.
Though a 35mm may not be your immediate choice for portrait photography, the versatility of this lens and its spot-on execution of images will make it one you want to play with time and again as you explore its capabilities. 
Reaching the end of our round-up of the best Canon RF lenses for portrait photography, there are still a few points to cover. 
And one of those points is a big question that's tested portrait photographers for decades. 
The question of which lens to choose is a highly personal choice, but if you have professional constraints and expectations from your clients, you'll want to have at least the 'holy trinity' in your kit. 
In the following, we size up what you gain or lose from the lens sizes you opt for from Canon's selection of top-end lenses. 
Which Focal Length Should You Choose for Portraiture?
There is no concise answer to which Canon RF lens makes for the best portraiture photography. 
Admittedly, the L-series produces sublime quality images that flatter and accurately capture the character at the center of your frame. 
However, while a good image will make a poor photographer's work look better, you are really best to understand your photographic style, your budget, and your needs.
But in terms of what the lenses give you, let's break it down in simple terms. 
Wider angle lenses (represented by low values like 35mm) capture more environmental information. For clearer,more concise images that put your subject at the heart of the image, opt for 50mm upwards.
The longer focal lengths let you be further from your subject while still enabling you to hone in on the detail. 
Maybe you want a full-length portrait photograph of a couple or you want the versatility that a zoom lens will deliver instead of the irksome chore of switching between lens sizes while on a tight schedule or restless sitter.
As we said before, there is no one-size-fits-all lens that will nail the portrait you want every time. It comes down to a matter of taste and your style.
 If you are still developing your style, pick one size of prime lens, and practice with it.
 Get to know it. Understand it.
 As you work with it, you'll discover the quality of portraits you like to take.
For pros, the L-series is top-level, and if your budget stretches to it, opt for at least the Canon RF 85mm F1.2L USM and Canon RF 24-70mm f/2.8L II USM to your kit as these will deliver peerless quality images that are sharp, characterful, and flattering.
How to Shoot Better Portrait Photographs With Your EOS R Camera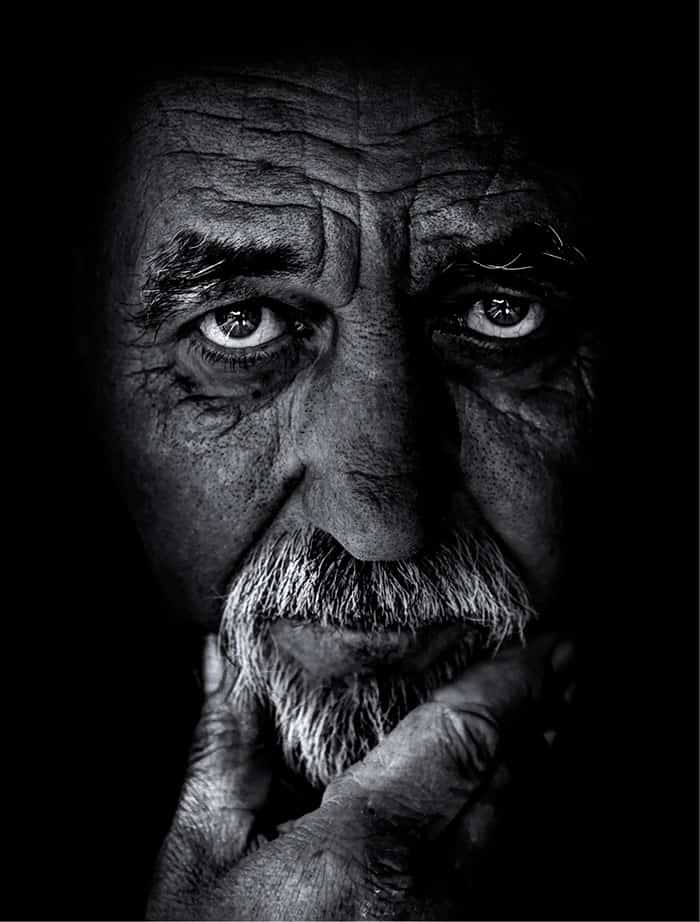 Here's a killer tip you can try out with your new lenses to enhance your portrait photography.
We've been talking about bokeh, that smooth, soft melted background quality, and that's because the background of your portrait is as telling and as significant as the person in your frame. 
The background adds context to the person you are photographing. You can use it to tell the story of your subject. 
To do so, use a wide-angle like the Canon RF 35mm F1.8 Macro IS STM.
Alternatively, let your subject speak for themself. 
Go in tight, set your aperture at F1.8, and watch the shallow depth of field rinse away any background detail, so the focus is primarily on your model. 
With the Canon RF 85mm F1.2L USM, you crop out most of the background detail so your subject becomes the principal focal point. Want a touch more background in your frame, select the Canon RF 50mm F1.2L USM.
Ultimately, no matter which lens you use, ensure your subject is relaxed, that you strike up an easy rapport that puts them at ease, and checks each shot as you go to ensure you've got the right settings.
Doing all of this, especially the last point, will save you time in the edit and guarantee a range of portrait shots for your portfolio or client.
Portrait photography is a matter of a great subject, extraordinary lighting, a photographer who's able to snap the character of their subject, and it is about having the tools that will deliver impeccable images. 
It pays to select a lens that embodies your style and complements the topic of your photograph. 
For that reason alone, play around with Canon's RF lenses until you can isolate the one that complements your style of working.