The Canon EOS R is the first camera of Canon's new flagship mirrorless line. The camera has a fabulous full-frame CMOS sensor, and the new RF-lens mount looks to be built with videographers in mind. 
Here's a look at the best video lenses for the EOS R.
Most video users will choose a zoom lens for their video work, even if they don't work the zoom during shots. 
Regardless of whether you choose zooms or primes, the RF 15-35 mm gives you the most useable video focal length range available for the EOS R. 
When shooting video at 4K, the EOS R's 1.8x crop factor makes finding a wide enough lens difficult.
The RF 15-35 mm checks all the boxes. The lens is beautifully built and fast. 
You can do pretty much everything you need to, from establishing shots to close-ups. 
With equivalent focal lengths of 27 to 63 mm in 4K video, this lens sits perfectly in the middle range where you'd want to be. 
When used for stills or 1080p video, the uncropped 15 to 35 mm range is very wide but also convenient to have.
This is an L-series lens, and it represents the best Canon has to offer. For the RF mount, this is the widest angle L-series available. 
They have no fast primes available yet below 50 mm, and the widest zoom stop down to 24 mm. 
This one, giving you 15 mm, provides enough field of view even cropped in to keep you happy for most shots.
Rokinon has been making manual focus lenses for Canon and other mounts for a while now. 
The Korean manufacturer now has a full third-party line of lenses and is beginning to make more Canon RF-mount options. Of particular interest to videographers are the Cine lenses offered by the company.
They offer the DSX versions, which are modified versions of the company's standard photography lenses. 
They also make a high-end line of pure-cine lenses called the Xeen series.
These lenses are fully manual and built for video.
The focus rings are smooth, and the t-stop rings de-clicked. The lenses are almost identical to those offered by Samyang, so shop around for the best deals.
They currently offer the 24, 35, 50, 85 mm in a T1.5 for the Canon RF mount.
If you have an EF to RF adapter, you might be able to find an EF-mount Rokinon lens slightly cheaper.
The company makes two standard zooms that are of interest to videographers. 
The RF 28-70 mm f/2L USM is the fastest zoom that Canon has designed to date. 
It's a big and bulky lens, but such a low f-stop will allow some spectacular night shooting and superb bokeh during close-ups.
If you'd rather have a wider field of view over the extra speed, the
Canon RF 24-70 f/2.8L USM
expands the field of view a little but is a stop slower. The savings mean a smaller overall lens, though, which might be easier on your back, tripod, or Steadicam.
Need a fast lens with excellent bokeh for close-up shots?
The Canon RF 50 mm f/1.2L USM is the best you'll find.
Like all RF-series lenses, it features a multifunctional control ring.
And like all L-series lenses, it is weather-sealed and robustly built. When shooting in 4K mode, this lens is equivalent to a 90 mm portrait close-up lens.
If you need even more reach, Canon's RF portrait powerhouse is the all-new Canon RF 85 mm f/1.2L USM DS.
This lens features a new "defocus smoothing" technology to make the bokeh, which is already spectacular, even more silky and smooth. The results speak for themselves.
For 4K video use on the EOS R, this lens presents a field of view equal to 153 mm, a bit tight for most uses.
If you regularly need more reach, even with the crop factor, consider the RF 24-105 mm f/4L. 
This is a great lens, and while it's not as fast as many Canon L-series zooms, it has a spectacularly useful zoom range. 
It's also more portable than most, and that lighter weight and smaller profile mean it will fit in your camera bag all day.
When traveling, or when in the field all day, the RF 24-105 f/4L can be your constant companion. 
Its only downside is the field of view when cropped in for 4K video, which only gets down to an equivalent of 43 mm.
When you consider the crop factor, you might start looking for the widest Canon prime you can get. 
That would be the RF 35 mm f/1.8. This is not an L-series lens, and it lacks the weather-sealing and high-end optics. 
But it's a solid lens none-the-less and well worth looking into. It presents a 63 mm field of view when recording a 4K video.
If you own or plan on buying the Canon adapter, you could look at older EF-mount lenses to find something wider.
The Canon EF 24 mm f/1.4L II USM is an excellent choice, giving you excellent built quality and stellar speed. It's an older design, though, and was built before the newest autofocus drives.
It's not loud by any means, but it wasn't custom-built for video recording.
If you need a close-up zoom lens, the best option is the RF 70-200 f/2.8L IS USM.
It's a gorgeous lens with industry-leading image stabilization to keep the shot smooth even when zoomed in.
This lens is pretty long, and while it's perfectly paired with the full-frame sensor in the EOS R, the crop factor applied at 4K video recording will mean there won't be too many times you'll use it. 
Wildlife videographers and some other special-purpose applications, however, will love the reach. 
With the 1.8x crop applied, it gets you an astounding 360 mm.
If you need one lens that goes from wide to super-zoom, Canon's 24-240 mm is your one-stop-shop. 
It's an entry-level lens with a variable aperture, but the image quality still impresses. 
For the range that you'll use most with video, the aperture range is very useable. 
The lens balances well with the EOS R body, and it makes a lovely walk-around lens.
Another excellent option for a full cine lens is this Sigma T2 zoom. 
The 18 to 35 mm range is perfect for the EOS R, but if you need more reach, there is also a 50-100 mm model that matches.
Like the Rokinon cine option above, this lens requires an adapter since it is built to the Canon EF mount.
If you'd like to try your hand at some even nicer fully-cine lenses, check out the Rokinon Xeen series.
This bundle includes the 24, 35, 50, and 85 mm, all with a super-fast T1.5.
If I had to choose just one, I would pick the 35 mm. But if you take video work seriously, it's nice to have your lens set matched. 
You'll have fewer color and exposure problems when putting clips together.
EOS R Videographer's Guide
What Makes a Great Video Lens? What is a Cine Lens?
Cine, or cinema, lenses are some of the most expensive photographic equipment you can buy. True cine lenses should have the following attributes.
Minimal focus breathing
Parafocal zooms available
Very precise manual focus rings for pull focus use
De-clicked aperture rings
Primes should be similar enough to be swapped and used during the shooting of a scene–similar size and weight for gimbals and steadycams, and color matched
High-end, professional quality
As DSLR and mirrorless camera systems have gradually integrated more video technology, cine-style lenses have become more common.
For the most part, these lenses are modified versions of the standard DSLR and mirrorless photography lenses. 
Canon and other manufacturers have found some inexpensive ways to get similar results, like ensuring that the focus rings travel smoothly enough to allow some pull-focus shots.
Autofocus lenses are now judged by how quietly they operate. Noisy autofocus was nothing more than a nuisance to a still photographer, but they can now render a video's audio track useless. 
So the lens makers have found quieter technologies, like Canon's STM (stepper motor) and Nano-USM (ultrasonic motor) technologies.
Manual lenses, which are favorites of video shooters, are favoring de-clicked aperture rings now. Some companies have the option to de-click the ring as a special service.
These modified lenses are more than adequate for occasional video shooters. Every EOS R owner knows what they want to shoot more of, whether video or stills. 
The RF lenses are all designed to handle both tasks very well, but you can find lenses that will do one or the other even better.
Video Crop Factors Canon EOS R
The EOS R camera has gotten some mixed reviews from the video world. The number one complaint, it seems, is the crop factor when filming in 4K video mode.
 Instead of using the entire full-frame CMOS sensor in 4K mode, only a tiny portion of the frame's center is used.
Of course, this still results in a video with a 4K resolution, albeit in a slightly odd way.
 When using the center section, a crop factor of 1.8x applies to all your lens focal lengths. 
If you want to shoot wide or establishing shots, you're going to need a very wide focal length. At this crop factor, the sensor area is actually smaller than an APS-C camera.
If you're after close-ups or extreme close-ups, the crop factor helps a little. You get a boost to your telephoto lenses, a nice bonus if you're a wildlife or sports videographer.
You could invest in some wide-angle video-online lenses. Another way is to invest in a correcting adapter. 
Several brands make EF to EOS R adapters with a 0.71x correction applied. It not only fixes the focal length problem but lets in a little more light to maximize the use of wide apertures.
However, you should note that when filming in standard HD 1080 mode, the EOS R uses the camera's full-frame.
Should I Pick Canon RF-lenses or Third-Party Cine Lenses?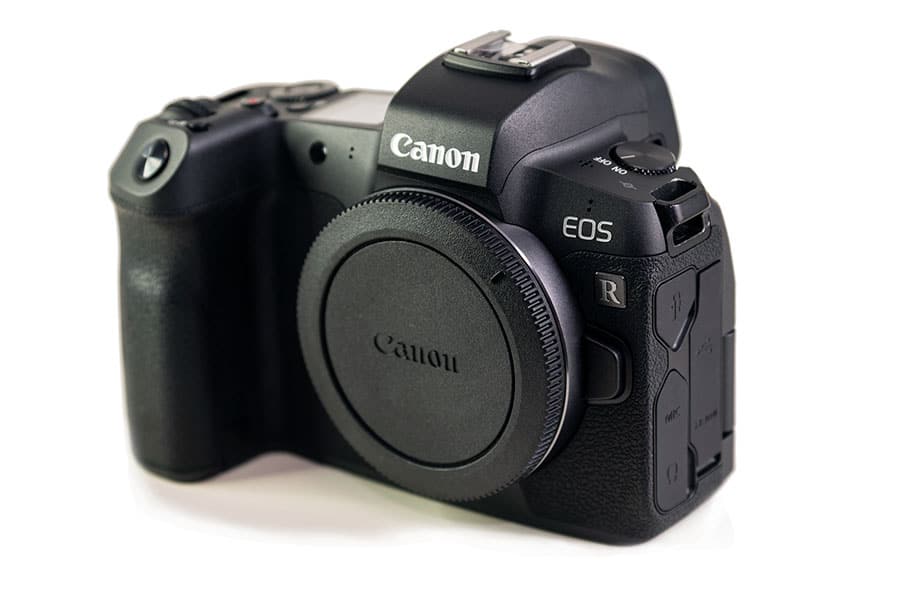 Canon's RF-mount seems to have been custom-created for video shooters–it just has a lot going for it. 
It has a wider mounting flange than the EF-mounts, and it has a new 12-pin connection for a faster and better flow of information between the lens and the camera.
The wider flange of the lens means less light fall-off near the corners, especially when working with wide apertures.
 You should start to see some faster lenses available for the RF mount, such as the new Canon RF 28-80 mm f/2L lens, Canon's fastest zoom to date.
The new 12-pin connector allows for better communication between the lens and the camera body. It enables better focus response and tracking.
On the other hand, if you want to go fully manual and find a cine lens for your EOS R, there's no reason to stick to Canon lenses. 
Canon does not yet make any cine lenses for the RF, but they are surely right around the corner. 
Many other brands do, however. And if you expand your search to include EF lenses mounted on one of the Canon adapters, there are many dozens of options.
What Are the Limitations and Problems With Using the EOS R for Video?
As already noted, the EOS R has a sizeable 1.8x crop factor when shooting in 4K video mode. 
The crop factor does not apply for 1080p video, which is shot in full-frame. Also in 4K mode, ISO is limited to 12,800, whereas you can go as high as 25,600 in 1080p.
Some video users will also note the lack of some dedicated controls that would be nice to have. 
The camera can do all of these functions, but some of these video-friendly items are buried in the menus and hard to get to. You might want to set up some custom buttons on the camera.
For one thing, the camera does not have a dedicated ISO control. In video, the ISO is often the most changed parameter of the exposure triangle. 
Another odd thing about the EOS R is the lack of a dedicated switch to put the camera quickly into video mode. It does have a dedicated record button, however.
Are Canon RF-Lenses Good For Video?
The Canon EOS R camera body marked the inauguration of the first new lens mount from Canon in a few years.
Since that introduction, the Canon RF-lens mount has been applied to several R-series mirrorless cameras, as well as the cinematographic EOS C70 camera.
The inclusion of the C-series cameras into this new mount is good news for video shooters because it means that more and more video lenses will be popping up for the mount.
Regardless of what focal lengths and models are available, Canon seems to be committed to making the RF a platform for video shooters. 
This lens mount marks the first time the company has made video a serious priority for their lens mounts.
One of the coolest features that RF lenses have is a dedicated lens control ring. You can set this ring to control whatever you want to, be it aperture or ISO or whatever.
The aperture is controlled in 1/8-stop increments on the new RF lenses, an incredible plus that allows maximum creative control.
The focus ring is electronically operated, which has the benefit of allowing the videographer to select the sort of response they would like the ring to have.
Not only can you set it to vary with the speed you rotate the ring, but you could also link it to a location on the barrel or the number of degrees you move it, like a traditional mechanical lens.
You can even change the direction of control from clockwise to counterclockwise as needed.
The lenses' new communication system means that they have reduced focus breathing.
The autofocus communication system operates fast enough to electronically correct for breathing, which should significantly improve the quality of autofocused shots.
Focus breathing is the change that occurs in the focal length of the shot, that is the magnification and angle of view when the lens is focused.
Ideally, you would think that the two factors of focal length and focus are unrelated. But optically, it isn't easy to make a lens that doesn't modify the field of view when focused.
Are Canon L-Series Lenses Worth It?
Canon's best lenses are branded with an "L" for luxury, and they all carry a distinctive red band on the outer lens barrel. These lenses represent the best that Canon offers.
They are weather-sealed and made with high-quality components that will last through rough shooting conditions.
The L-series lenses also have the best optics available from the company.
They are outstanding lenses, and they have the fastest apertures that Canon makes.
But all of these features make these lenses the largest, heaviest, and most expensive options available. If you're looking for a video lens that is lightweight and fits easily in a day pack, L-series lenses might not be the ones for you.
Can I Use Canon EF Lenses for Videos on the EOS R?
Canon fully realizes that photographers and videographers are likely to a larger selection of EF lenses than RF lenses for awhile. 
Many photographers have been using Canon DSLR series cameras and have a complete set of excellent lenses, and they're understandably hesitant to sell them off to join the RF-only club.
For these photographers, Canon has offered up four separate EF to RF converters that you can use. 
The great thing about these converters is that they retain all of the lens functionality.
 You'll get all your lens data, aperture control, image stabilization, and autofocus to work just like it would on an EF body.
The four Canon adapaters availble are–
The price of these converters is pretty high, though.
If you're seriously considering getting the converter and more EF lenses, double-check the math to make sure it works in your favor.
The filter-holding converters are very pricey, and there are usually less expensive ways to get the same functionality out of your lens kit.
The control ring adapter is an interesting upgrade, but video shooters, be warned–the ring clicks, like an old-school aperture ring.
Yes, the clicks are loud enough to be audible on the video. Canon does offer a service to de-click it for you, but then you're out even more cash that you could've put towards a new RF lens.
Aperture Control With Video
Photographers are used to the aperture of a lens being measured in f-stops. But cine lenses, and now many cine-style lenses, are marked in t-stops. What is the difference between f-stops and t-stops?
F-stops are mathematically calculated based on the size of the lens aperture opening. It's going to change from focal length to focal length; that is to say, f/4 on one lens doesn't have anything to do with f/4 on another.
On the other hand, T-stops try to solve this problem by giving a more cumulative idea of how much light is being let into the lens.
This allows videographers and cinematographers to switch between lenses during a shot easily, knowing that if they keep the new lens at the same t-stop, the lighting setup should not change.
This level of consistency is something that still photographers won't care about.
If they swap to another lens for another photograph, the camera will automatically adjust the shutter speed and ISO to maintain the same f-stop.
But in cinema, those changes may make significant differences to the final product. And since the viewer is watching the images stitched together into a moving picture, the video shooter needs to make sure that everything matches perfectly.
Should I Use Manual Focus or Autofocus for Video?
If you're new to video, you might be surprised by the amount of fully-manual cine-style lenses that are available for your EOS R.
A beautiful new camera body with such a stellar and advanced autofocus system is designed to be used, right?
Many videographers want a little more control over their focus scenarios.
During a video, especially with moving actors, it's easy for the autofocus system to get fooled and wander onto the wrong thing.
It's easier for the director and videographer to control that manual by planning out shots and measuring focal distances.
That is, as long as you have a lens that allows you to do it smoothly.
The Canon RF lenses are designed for it, but many cheaper or older photography lenses have focus barrels that move sluggishly.
It can be tough to focus these lenses on the camera, but it can be winning if you are using it between shots.
Another time when the manual focus comes in handy is when you want to make a shot where the point of focus changes on camera.
This can be used as a storytelling device, shifting the viewer's eyes to another part of the frame. It's called pull focus. The only reliable way to do it is to use a manual focus lens with a silky-smooth focus ring.
Canon EOS R Specifications
Body type
Body type
SLR-style mirrorless
Body material
Magnesium alloy
Sensor
Max resolution
6720 x 4480
Other resolutions
4176 x 2784 (1.6x crop)
Image ratio w:h
1:1, 4:3, 3:2, 16:9
Effective pixels
30

megapixels

Sensor photo detectors
32

megapixels

Sensor size
Full frame (36 x 24 mm)
Sensor type
CMOS
Color space
sRGB, Adobe RGB
Color filter array
Primary color filter
Image
ISO
Auto, 100-40000 (expands to 50-102400)
Boosted ISO (minimum)
50
Boosted ISO (maximum)
102400
White balance presets
6
Custom white balance
Yes
Image stabilization
No
Uncompressed format
RAW
JPEG quality levels
Fine, normal
File format

JPEG
Raw (14-bit Canon CRW)
C-Raw (Canon compressed Raw)

Optics & Focus
Autofocus

Contrast Detect (sensor)
Phase Detect
Multi-area
Center
Selective single-point
Tracking
Single
Continuous
Touch
Face Detection
Live View

Autofocus assist lamp
Yes
Manual focus
Yes
Number of focus points
5655
Lens mount
Canon RF
Focal length multiplier
1

×

Screen / viewfinder
Articulated LCD
Fully articulated
Screen size
3.2

″

Screen dots
2,100,000
Touch screen
Yes
Screen type
TFT LCD
Live view
Yes
Viewfinder type
Electronic
Viewfinder coverage
100

%

Viewfinder magnification
0.76

×

Viewfinder resolution
3,690,000
Photography features
Minimum shutter speed
30

sec

Maximum shutter speed
1/8000

sec

Exposure modes

Program
Aperture priority
Shutter priority
Manual

Built-in flash
No
External flash
Yes

(via hot shoe)

Flash X sync speed
1/200

sec

Drive modes

Single
High-speed continuous
Low-speed continuous
Self-timer

Continuous drive
8.0

fps

Self-timer
Yes

(2 or 10 secs)

Metering modes

Multi
Center-weighted
Spot
Partial

Exposure compensation
±3 (at 1/3 EV, 1/2 EV steps)
AE Bracketing
±3 (3 frames at 1/3 EV, 1/2 EV steps)
Videography features
Format
MPEG-4, H.264
Modes

3840 x 2160 @ 30p / 480 Mbps, MOV, H.264, Linear PCM
3840 x 2160 @ 30p / 120 Mbps, MOV, H.264, AAC
3840 x 2160 @ 24p / 480 Mbps, MOV, H.264, Linear PCM
3840 x 2160 @ 24p / 120 Mbps, MOV, H.264, AAC
3840 x 2160 @ 23.98p / 480 Mbps, MOV, H.264, Linear PCM
3840 x 2160 @ 23.98p / 120 Mbps, MOV, H.264, AAC
1920 x 1080 @ 60p / 180 Mbps, MOV, H.264, Linear PCM
1920 x 1080 @ 60p / 60 Mbps, MOV, H.264, AAC
1920 x 1080 @ 30p / 90 Mbps, MOV, H.264, Linear PCM
1920 x 1080 @ 30p / 30 Mbps, MOV, H.264, AAC
1920 x 1080 @ 24p / 90 Mbps, MOV, H.264, Linear PCM
1920 x 1080 @ 24p / 30 Mbps, MOV, H.264, AAC
1920 x 1080 @ 23.98p / 90 Mbps, MOV, H.264, Linear PCM
1920 x 1080 @ 23.98p / 30 Mbps, MOV, H.264, AAC
1280 x 720 @ 120p / 160 Mbps, MOV, H.264, Linear PCM

Microphone
Stereo
Speaker
Mono
Storage
Storage types
SD card (UHS-II supported)
Connectivity
USB
USB 3.2 Gen 1 (5 GBit/sec)
USB charging
Yes

(With some chargers)

HDMI
Yes

(Mini-HDMI)

Microphone port
Yes
Headphone port
Yes
Wireless
Built-In
Wireless notes
802.11b/g/n + Bluetooth 4.1 LE
Remote control
Yes

(via smartphone)

Physical
Environmentally sealed
Yes
Battery
Battery Pack
Battery description
LP-E6N lithium-ion battery & charger
Battery Life (CIPA)
370
Weight (inc. batteries)
660

g

(1.46

lb

/ 23.28

oz

)
Dimensions
136 x 98 x 84

mm

(5.35 x 3.86 x 3.31

″

)
Other features
Orientation sensor
Yes
GPS
None
As cameras become more and more multifunctional, being able to equally handle video and still photography, the way that operators will use their camera bodies will continue to diverge.
Everyone uses their equipment differently, which makes recommending one type of lens over another very difficult.
Nowhere is this more true than in video, where shooting styles vary widely depending on artistic style and project format.
What type of lens do you like to use for video? Let me know in the comments below.